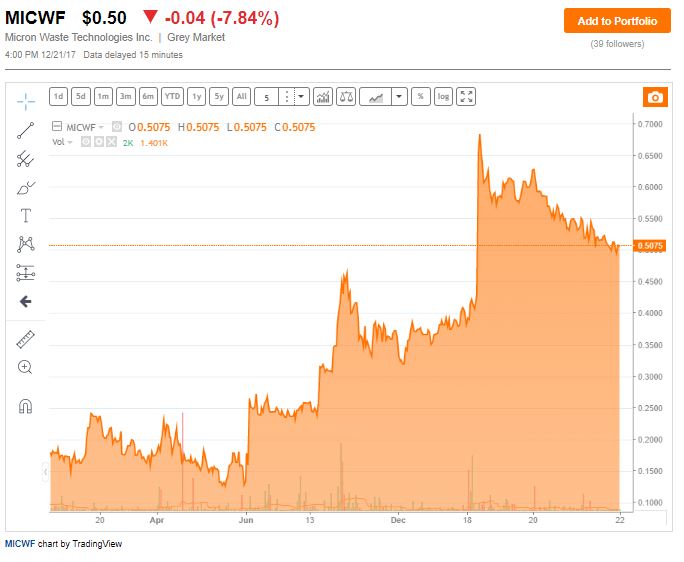 NEW YORK, December 21, 2017 /PRNewswire/ —
According to a new report from Brightfield Group, the global cannabis market is currently worth $7.7 billion and is expected to reach $31.4 billion by 2021. The United States accounts for about 90 percent of the market. But the U.S. domination of the market is expected to drop to 57 percent due to the legalization of cannabis in other countries.
Canada is considered as one of the biggest markets for cannabis. Canada plans to legalize recreational cannabis in 2018. Data provided by Deloitte estimates that sales of recreational cannabis alone in the Canadian marketplace could be as much as $5B per year to start. Micron Waste Technologies Inc. (OTC: MICWF), Aurora Cannabis Inc. (OTC: ACBFF), General Cannabis Corp. (OTC: CANN), Vitality Biopharma Inc. (OTC: VBIO), 22nd Century Group Inc. (NYSE: XXII).
The booming cannabis market is expected to have positive economic benefits, such as creating more jobs and generating tax revenue. According to MG News, Vivien Azer of Cowen & Co. said in a report, "When you consider ancillaries such as growers, testing labs, security, etc., the economic impact could range from $12.7 to $22.6 billion. Of note, these numbers do not include the impact of tourism, business taxes, licensing fees and paraphernalia sales, which could drive the economic impact higher."
Micron Waste Technologies Inc. (OTC: MICWF) also listed on the Canadian Stock Exchange under the Ticker 'MWM'. On December 19th Micron, together with Aurora Cannabis Inc. (TSX: ACB) (OTCQB: ACBFF) announced that, "the companies have signed a non-binding term sheet for Aurora to make a strategic investment in Micron, and for both companies to collaborate on the optimization of Micron's technology for the treatment of organic waste generated in the cultivation and production of cannabis products.
Micron has developed a new technology, based on aerobic digestion and subsequent treatment, that converts organic waste into clean water that meets municipal effluent discharge standards. The effluent from currently available digester-based treatment systems of organic waste does not meet municipal discharge standards and requires costly further treatment. Many generators of organic waste elect, instead, to use municipal landfill sites for their organic waste, which is costly and has a negative impact on the environment. The merits of Micron's technology have been successfully demonstrated with a grocery supermarket chain located in British Columbia, Canada, and Micron has entered into a Memorandum of Understanding with the group to plan for additional installation of Micron's organic waste digester units at other locations in BC.
Under the terms of the agreement, which the companies anticipate finalizing soon, Micron will install its technology at one of Aurora's cultivation facilities, where both companies will work on optimizing Micron's digester technology to deliver a commercially-ready design specifically for the cannabis industry…Aurora shall have the option, upon successful completion of the optimization program and proven viability, to sign a definitive supply agreement with Micron for the purchase of Micron`s organic waste digestion solution for each of its cultivation facilities at a preferred pricing structure…In consideration of Aurora's participation in the optimization process, and pursuant to the terms of a royalty agreement to be entered into between the parties, Micron shall pay to Aurora a royalty equal to 4% of gross revenues generated by Micron from the sale, lease and/or support services agreement pertaining to digesters sold to companies in the business of cultivating or processing cannabis. Micron shall retain all intellectual property pertaining to its digestion system.
Under the terms of the agreement, once finalized, Aurora will have the right to subscribe for up to 6,000,000 shares of Micron at a subscription price of $0.34 per share for aggregate subscription proceeds of $2,040,000 million in accordance with the terms and conditions of a subscription agreement to be entered into among the parties, representing a 9% interest in the Corporation on a non-diluted basis immediately post-investment. Upon the first successful sale of a digester within the cannabis industry, Micron shall issue a further 2 million shares to Aurora… Aurora shall have the right to participate in any future offerings of equity or debt convertible into equity of Micron to allow Aurora not to be diluted in its ownership interest of Micron."
Rav Mlait, CEO of Micron, added, "We are delighted to partner with the cannabis industry's innovation leader and enter the remarkably dynamic, fast-growing cannabis sector. Furthermore, Aurora's investment provides additional funds to accelerate diversification into other sectors, such as supermarkets, quick-serve restaurants, agricultural operations and hotels, which are all faced with high organic waste disposal costs. While our goal has always been to deliver solutions that have a positive impact on the environment, the only way to truly make a difference is by having a value proposition that provides a strong commercial rationale for adoption. We have proven that we have such a solution through our demonstration project in Richmond, BC, and are well positioned to execute on our aggressive growth strategy."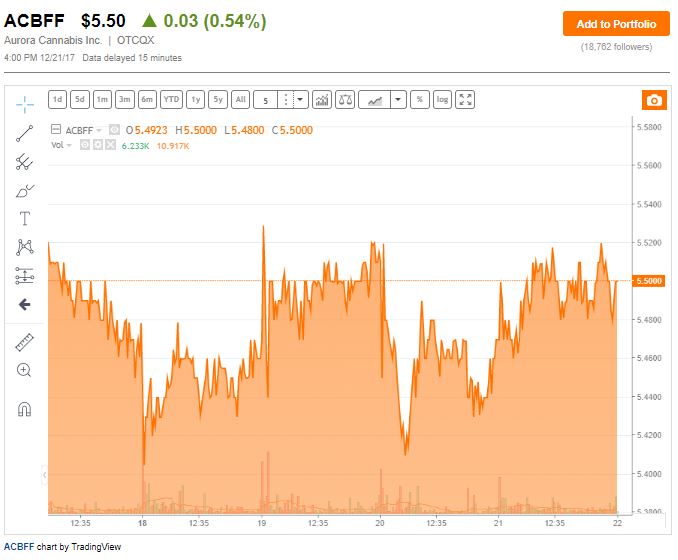 Aurora Cannabis Inc. (OTCQX: ACBFF) is a community-minded, Canadian owned and operated company. On December 5, 2017, the company announced that, further to its press releases of November 23, 2017, it has completed the acquisitions of Larssen Ltd, a globally leading greenhouse engineering and design consultancy, and that of H2 Biopharma, a late-stage ACMPR applicant based in Quebec. Larssen currently is involved in 15 cannabis projects, five of which are with Canadian Licensed Producers. H2 is currently completing a state-of-the-art, purpose-built 48,000 square foot cannabis production facility (the "Lachute facility"), less than an hour from Montreal, which, upon completion, is projected to produce approximately 4,500 kilograms of high-quality cannabis per annum, with significant expansion potential on 46 acres (19 hectares) of land, which H2 has the right to acquire for $136,000.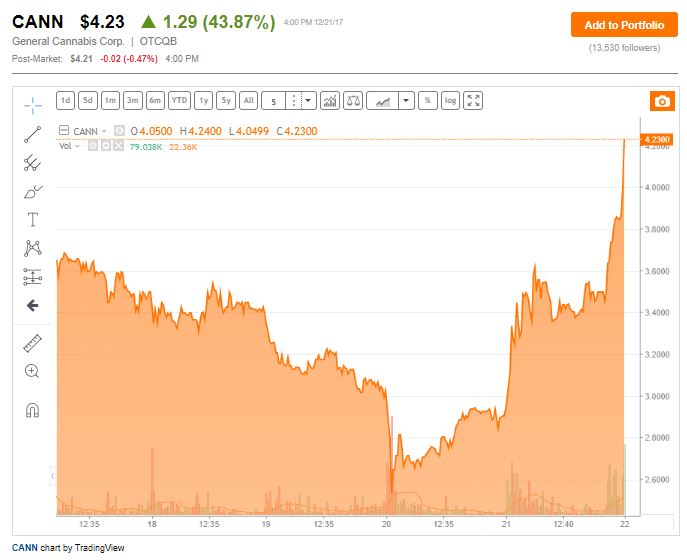 General Cannabis Corp. (OTCQB: CANN) is the comprehensive national resource for the highest-quality service providers available to the regulated cannabis industry. The company is a trusted partner to the cultivation, production and retail sides of the cannabis business.  On December 19, 2017, General Cannabis Corporation announced that it has entered into an agreement to sell its real estate investment in Pueblo, Colorado.  On December 18, 2017, General Cannabis Corp and RDR Realty, LLC, a non-affiliated entity ("RDR"), entered into an agreement pursuant to which General Cannabis agreed to sell to RDR the General Cannabis' Pueblo West Property ("Property") for gross consideration of $625,000 in cash.  The Property consists of three acres of land, which includes a 5,000 square-foot building and parking lot.  The sale is in keeping with General Cannabis' long-term strategy of investing for total return in order to continue delivering superior long-term value creation to shareholders.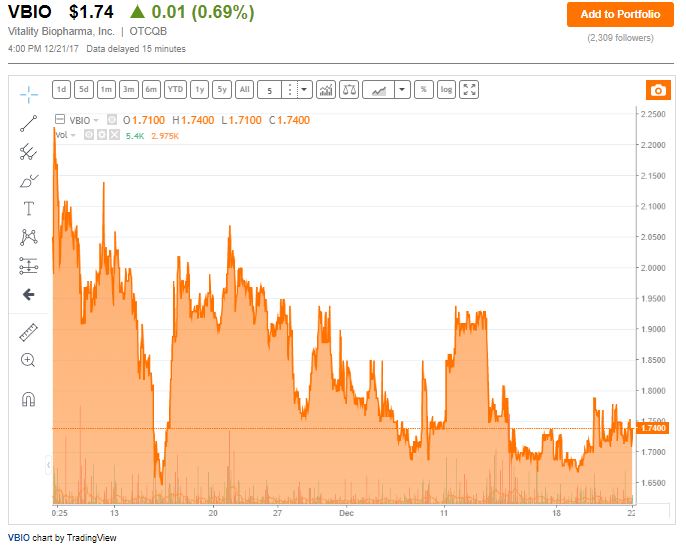 Vitality Biopharma Inc. (OTCQB: VBIO) is dedicated to unlocking the power of cannabinoids for the treatment of serious neurological and inflammatory disorders. On November 1, 2017, the company announced completion of pivotal manufacturing agreements that enable the production of clinical-grade cannabinoid pharmaceuticals at its R&D facilities in California. Over the past several years, Vitality Biopharma has developed and optimized a novel biosynthesis process that is now being used for the production of cannabinoid pharmaceuticals.  The manufacturing process was created to modify the taste of stevia, a high-potency sweetener, and was designed for the production of kilogram or larger quantities of stevia destined for use within food and beverage applications.  Vitality Biopharma has now repurposed its R&D and manufacturing operations to enable pharmaceutical-grade production of cannabosides.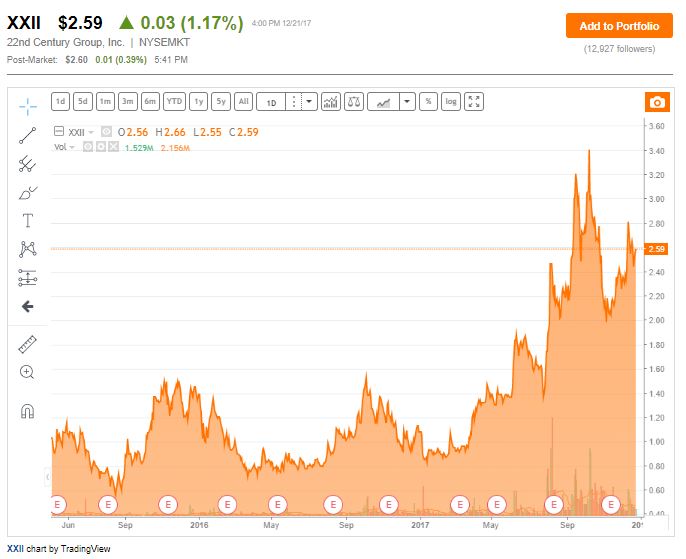 22nd Century Group Inc. (NYSE: XXII) is a plant biotechnology company focused on genetic engineering and plant breeding which allows the increase or decrease of the level of nicotine in tobacco plants and the level of cannabinoids in hemp/cannabis plants. In September 2014, 22nd Century's wholly-owned subsidiary, Botanical Genetics, LLC, entered into a worldwide license agreement with Anandia Laboratories Inc. Under the terms of the agreement, the company was granted an exclusive sublicense in the United States and a co-exclusive sublicense in the remainder of the world, excluding Canada, to patents and patent applications relating to the cannabis plant that are required for the production of cannabinoids, the major active ingredients in the cannabis plant. The Anandia sublicense continues through the life of the last to expire patent, which is expected to be 2035.
Separate of the Release of Interest.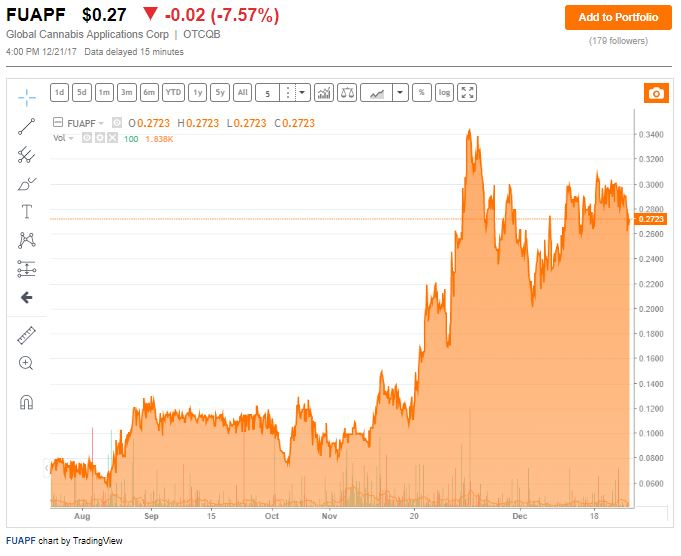 Global Cannabis Applications Corp. is a global leader in designing, developing, marketing, and acquiring innovative data technologies for the cannabis industry. The Citizen Green platform is the world's first end-to-end – from patient to regulator – medical cannabis data solution. It uses six core technologies: mobile applications, artificial intelligence, reg tech, smart databases, blockchain and digital reward tokens, to qualify candidates for clinical studies. These technologies facilitate the proliferation of digital conversations by like-minded people in medical cannabis. Managed by digital and cannabis industry experts, GCAC is focused on viral global expansion by providing the best digital experience in the cannabis market.
Subscribe Now! Watch us report from NYSE https://www.youtube.com/FinancialBuzzMedia
Follow us on Twitter for real time Financial News Updates: https://twitter.com/financialbuzz
Follow and talk to us on Instagram: https://www.instagram.com/financialbuzz
Facebook Like Us to receive live feeds: https://www.facebook.com/Financialbuzz/
About FinancialBuzz.com 
FinancialBuzz.com, a leading financial news informational web portal designed to provide the latest trends in Market News, Investing News, Personal Finance, Politics, Entertainment, in-depth broadcasts on Stock News, Market Analysis and Company Interviews. A pioneer in the financially driven digital space, video production and integration of social media, FinancialBuzz.com creates 100% unique original content. FinancialBuzz.com also provides financial news PR dissemination, branding, marketing and advertising for third parties for corporate news and original content through our unique media platform that includes Newswire Delivery, Digital Advertising, Social Media Relations, Video Production, Broadcasting, and Financial Publications.
Please Note: FinancialBuzz.com is not a financial advisory or advisor, investment advisor or broker-dealer and do not undertake any activities that would require such registration. The information provided on http://www.FinancialBuzz.com (the 'Site') is either original financial news or paid advertisements provided [exclusively] by our affiliates (sponsored content), FinancialBuzz.com, a financial news media and marketing firm enters into media buys or service agreements with the companies which are the subject to the articles posted on the Site or other editorials for advertising such companies. We are not an independent news media provider and therefore do not represent or warrant that the information posted on the Site is accurate, unbiased or complete. FinancialBuzz.com receives fees for producing and presenting high quality and sophisticated content on FinancialBuzz.com along with other financial news PR media services. FinancialBuzz.com does not offer any personal opinions, recommendations or bias commentary as we purely incorporate public market information along with financial and corporate news. FinancialBuzz.com only aggregates or regurgitates financial or corporate news through our unique financial newswire and media platform. For this release, FinancialBuzz.com expects to be compensated five thousand dollars for financial news dissemination and pr services by micron waste technologies inc. Our fees may be either a flat cash sum or negotiated number of securities of the companies featured on this editorial or site, or a combination thereof. The securities are commonly paid in segments, of which a portion is received upon engagement and the balance is paid on or near the conclusion of the engagement. FinancialBuzz.com will always disclose any compensation in securities or cash payments for financial news PR advertising. FinancialBuzz.com does not undertake to update any of the information on the editorial or Site or continue to post information about any companies the information contained herein is not intended to be used as the basis for investment decisions and should not be considered as investment advice or a recommendation. The information contained herein is not an offer or solicitation to buy, hold or sell any security. FinancialBuzz.com, members and affiliates are not responsible for any gains or losses that result from the opinions expressed on this editorial or Site, company profiles, quotations or in other materials or presentations that it publishes electronically or in print. Investors accept full responsibility for any and all of their investment decisions based on their own independent research and evaluation of their own investment goals, risk tolerance, and financial condition. FinancialBuzz.com. By accessing this editorial and website and any pages thereof, you agree to be bound by the Terms of Use and Privacy Policy, as may be amended from time to time. None of the content issued by FinancialBuzz.com constitutes a recommendation for any investor to purchase, hold or sell any particular security, pursue a particular investment strategy or that any security is suitable for any investor. This publication is provided by FinancialBuzz.com. Each investor is solely responsible for determining whether a particular security or investment strategy is suitable based on their objectives, other securities holdings, financial situation needs, and tax status. You agree to consult with your investment advisor, tax and legal consultant before making any investment decisions. We make no representations as to the completeness, accuracy or timeless of the material provided. All materials are subject to change without notice. Information is obtained from sources believed to be reliable, but its accuracy and completeness are not guaranteed. For our full disclaimer, disclosure and Terms of Use. Please visit: http://www.financialbuzz.com.
For further information:
info@financialbuzz.com
+1-877-601-1879
Url: http://www.FinancialBuzz.com
Global Cannabis is a client of Revlers.IO Media which is unrelated to FinancialBuzz and pays a $2500 a month retainer for coverage on its websites. Global Cannabis was originally added to the Internet Stock Review Watch List (a related firm) on October 6th, 2016 at a price of $0.09
For more interesting curated articles like this, sign up for our free newsletter at the MarijuanaStockReview.com or click here to subscribe.