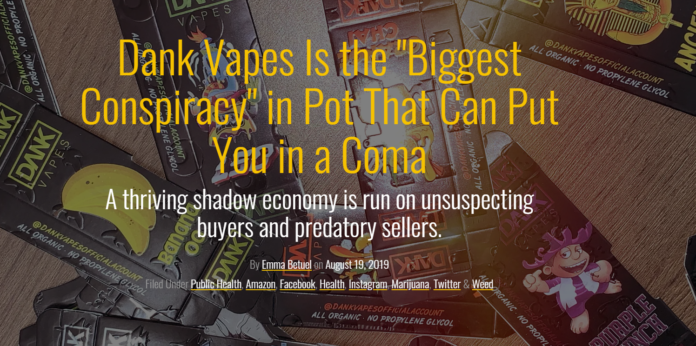 Patrick DeGrave's brother was still in a medically induced coma in a Wisconsin hospital when he spoke to the local news. Standing before a crew from FOX 6 Milwaukee, he was ready to go public, and the vaporizer cartridge he held up for the cameras was the reason for his brother's significant heart and lung damage.
The story that aired was also reported on by the Milwaukee Journal Sentinel and the national Fox News website, amongst others. In each story, a black box with a candy-colored logo appeared: Dank Vapes.
Vaping is most commonly associated with companies like JUUL and Blu, which make vaporizer products for nicotine, but the vape cartridge that DeGrave believes is responsible for his brother's illness — we're not naming his brother out of respect for his privacy — is something very different.
The vapor product DeGrave showed to reporters was distilled from cannabis. But it was also apparently made by the "company" Dank Vapes — an elusive, black-market brand that's as tricky to pin down as vapor.
DankBusters