(SeekingAlpha)
Summary
*Florida's medical cannabis market is growing rapidly, with patients up 165% year-over-year and cannabis volume up 128% year-over-year.
*Florida is a limited license market and virtually every major multi-state cannabis company operates or plans to operate in Florida.
*Florida's growth continues today, as Florida added its second-highest number of patients during the week of May 3.
Looking for more? I update all of my investing ideas and strategies to members of The Growth Operation. Start your free trial today »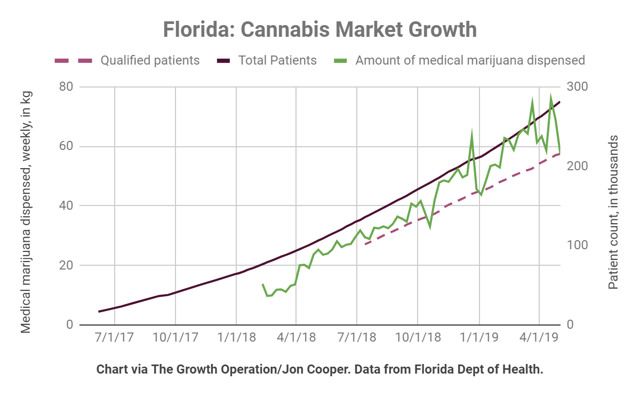 The Florida Market
Florida is the third-largest state by population and the second-largest state with legal cannabis. Medical cannabis was legalized in Florida in January 2017. Since then, the Florida market has grown continuously by all metrics, with patient counts rising to over 280,000 as of May 3, up from 106,000 one year ago.
This market is one of the most attractive markets for large cannabis companies due to its relatively unique set up.
Florida is a limited-license medical cannabis market, with an initial limit of 14 licensed companies although eight new licensees have recently been added after months of legal battles. Each company is limited to a single license, as with other states like Massachusetts. Each license allows companies to both cultivate cannabis and to open medical cannabis dispensaries.
One aspect that sets Florida apart from other states, like Massachusetts, is the scale allowed by a Florida license. In Massachusetts, a license-holder can open three recreational cannabis stores (and potentially three medical cannabis dispensaries). This three-store footprint allows for limited scale, typically resulting in cannabis stores selling products from a variety of companies. For example, Rise Amherst, a Green Thumb (OTCQX:GTBIF) dispensary, and The Botanist in Worcester, an Acreage (OTCQX:ACRGF) dispensary, both sell products from Howl's and Berkshire Roots.
In contrast, a Florida license allows each license-holder to open 35 cannabis dispensaries. Even that ceiling is set to expire in April 2020 and increases with increasing patient counts. This much higher limit allows for better scale, allowing larger companies to become vertically integrated and sell primarily or exclusively their own products. For example, Curaleaf Palm Harbor(OTCPK:CURLF) and Trulieve Vero Beach (OTCPK:TCNNF) both exclusively sell products created in-house. This vertical integration means that Curaleaf and Trulieve both receive 100% of the profits on the products they sell, enabling higher gross margins and increased profitability.
Florida Market Growth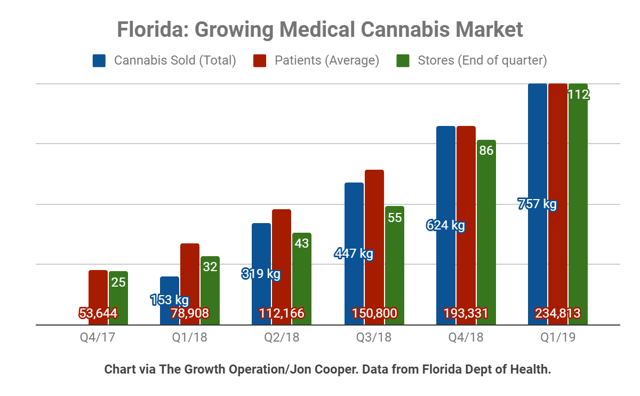 In addition to an attractive regulatory scheme, Florida's medical cannabis market is booming. Each week, the state of Florida releases weekly reports that detail statistics including patient counts, how much cannabis was dispensed, and how many dispensaries are licensed in the state. Each of these metrics has been booming.
During the fourth quarter, over 193,000 Floridians purchased 624 kilograms of medical cannabis, at a rate of about 3.2 grams/patient per quarter. In the first quarter of 2019, the average patient count rose to nearly 235,000 (up 21% QoQ) and those patients consumed 757 kilograms of medical cannabis (up 21% QoQ). On a YoY basis, cannabis sales have increased nearly 400% while patient counts have grown nearly 200%.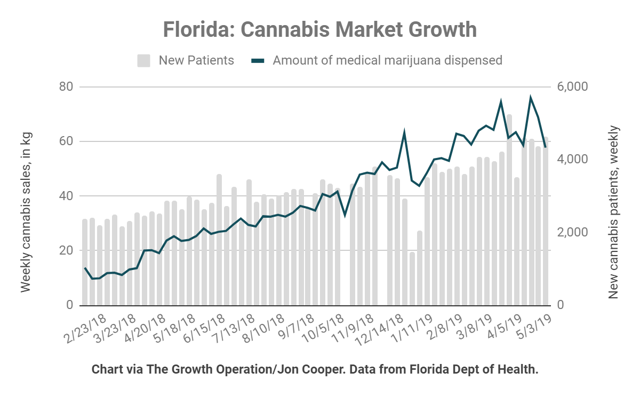 While not shown above, each of these metrics will increase in the second quarter, with patient counts already up 16% in the first five weeks of the second quarter and cannabis/patient steady at 3.2 grams/patient per quarter.
Major Competitors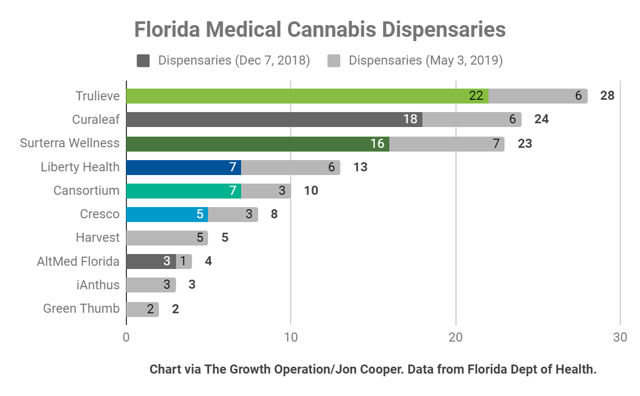 As of May 3, 10 of Florida's 22 licensees operate at least one cannabis dispensary, while MedMen (OTCQB:MMNFF), Columbia Care (OTC:COLXF), and 3 Boys Farm (owned by Sol Global Investments, OTCQB:SOLCF) dispense cannabis via delivery. Canopy Growth (CGC) target Acreage Holdings purchased a Florida cannabis license in January for $67 million, but hasn't begun delivering cannabis or opened any stores in Florida.