Summary
Weed stocks have gone on an insane run and investors in the sector will be scouring the markets looking for any remaining "cheap" companies.
Global Cannabis Apps is one of the few microcap stocks left that are remotely tied to the industry that hasn't gone on an insane run, up "only" around 200% recently.
Can APP succeed on its lofty milestones? That might not be important if you plan to play the hype and sell out before the market wants to see numbers.
EDIT: This blog was written and released on December 31. The November 27 date listed above is some kind of system error.
I must say that I have greatly underestimated the strength of the bubble in the marijuana industry. I think there are a lot of new investors who never lived through the brutal crash in 2008 or the five year bear market on the TSX Venture just prior to the marijuana run experiencing beginner's luck who are helping to sustain this bubble.
I have never been a huge fan of this industry as it relies heavily on favorable government policy to thrive rather than free market principles. For now, weed stocks look good but anyone investing in this industry is betting heavily that the volatile Republican-controlled government in the U.S. will leave the states be with their own laws on recreational or medicinal use.
They are also betting that the Liberal government in Canada, led by a clown posing as a Prime Minister, won't be incompetent enough to completely screw up the legalization process, or corrupt enough to get the policy right but ensure that only themselves, the big banks and certain big players in the industry line their pockets while all the retail shareholders are left holding the bag. To the new traders and veterans alike who are smart enough to take their profits now while they have them, even if a little early, I tip my cap to you.
I think one day the weed industry will make an incredible shorting opportunity. We already see the foundation of that being laid, as Canopy Growth Corporation (OTCPK:TWMJF) (WEED.TO) cratered about $5 in a blink of an eye on Friday, likely as some large player sold out. But I don't think we are quite at that point yet, and there is still some opportunities to make money on the long side for the latecomers and people who are excessively greedy.
The largest Canadian growers like WEED and Aurora Cannabis Inc. (OTCQX:ACBFF) (ACB.TO) were the first to move. Then we saw the smaller players like MYM Nutraceuticals Inc. (OTCQB:MYMMF) (MYM.C) and PUF Ventures Inc. (OTCPK:PUFXF) (PUF.C) move literally from pennies to dollars. Then we saw companies that are on the peripheral of the industry like Radient Technologies Inc. (OTC:RDDTF) (RTI.V) (read my blog about RTI here) and Isodiol International Inc. (OTCQB:ISOLF) (ISOL.C) move up considerably. Most recently, Namaste Technologies Inc. (OTCQB:NXTTF) (N.C), a distributor and online marketplace for cannabis and accessories has gone on an absurd run. This leads me to believe that Global Cannabis Applications Corp. (OTCQB:FUAPF) (APP.C) will be next.
I have seen this phenomenon happen before. When a sector becomes overheated, the money flows downstream to the lesser players. The highest quality companies go on a run first – WEED and ACB being accepted by the market as the high-quality growers. Then the junior companies – MYM and PUF – make a huge run. Next are the ones that aren't in the industry but are closely tied to it. The most recent heavy movers aren't growers themselves.
APP looks like it is next in line to benefit from the weed bubble. It is not a grower. It doesn't touch the plant in any way or sell any kind of cannabis product. What it does have is a proprietary platform in Citizen Green which it proposes to develop an online marketplace for cannabis users to interact with each other and find the best (medical) cannabis for their needs. The company proposes to make money by facilitating that relationship between user and dispensary and gathering anecdotal evidence for which it hopes will become valuable data for pharmaceutical companies and regulators.
As if riding the coattails of the cannabis industry wasn't enough, APP has made noise in the blockchain industry and is proposing its own cryptocurrency reward token as part of the Citizen Green platform. In the microcap world, companies will reinvent themselves to follow the latest trend in hopes of pushing up the stock price and possibly getting financing at a good price in order to have money to enact some kind of business plan or continue to pay management salaries.
APP has been one of the more outrageous examples I have seen. Formerly called Fundamental Applications, the company revamped its strategy after launching some mildly successful apps and claims to have generated over 300,000 downloads in total across all of its portfolio, mostly college-aged individuals. APP now plans to onboard those users onto Citizen Green for quick growth.
This buzzword-filled strategy in two hot bubble markets is just too delicious of a spec opportunity for a risk-loving investor like myself to ignore. I have noticed an increase in investors trying to spread the word on the stock as it closed the year at its 52-week high and up 27% on Friday so I thought I might as well jump in with my own two cents before the madness to come on Tuesday.
A Fox Business news broadcast called "New To The Street" will be doing a feature on Global Cannabis Apps some time in January, which will only add fuel to the speculative fire.
With all that being said, CEO Brad Moore does not have the look or mouth of a sleazy, snake oil salesman trying to move his company up purely on a pump, despite the obvious paid promo piece.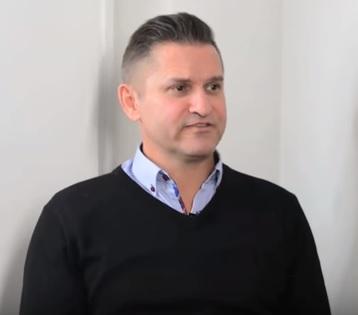 He comes off as a nerd, and that is exactly who we need running this company to ensure it grows in a responsible and achievable manner. APP released an investor presentation in November, and by all accounts has set some very lofty goals for itself in the near-term: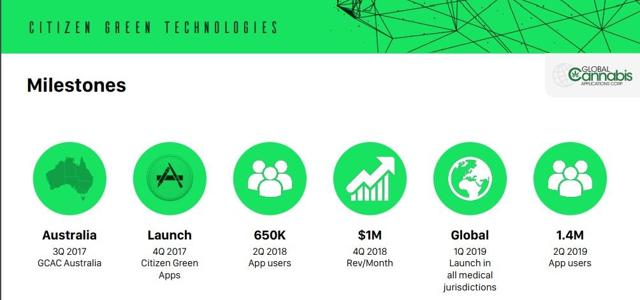 APP forecasts to have $1 million in revenue per month by the end of 2018, infinite growth from the zero revenue earned according to its last financial filing. Can the company realistically achieve this? Maybe, maybe not. But as an early-stage investor this may not even be important to me. APP has "only" tripled from my original buy in point several months ago. If you look at runs made by Namaste or MYM, you can understand my use of the word only and why myself and others think this stock could continue its run.
Just like a company can rise when being a pretender in a hot sector, it can fall as fast if it does not execute and the industry gets cold. I have sold a bunch of my original APP shares while the stock has been on the rise, but continue to hold well more than half of my original position. The hype could continue for a while, but ultimately this stock will live or die on successful execution on its buzzword-filled strategy. That's a risk that "long-term" holders must take. For me to hang on much longer than a few months, the company will have to demonstrate clear progress towards achieving its financial and user base milestones.
In the meantime, I am playing the cannabis bubble hype machine as I think January will be a monster one for APP considering the increased exposure, the expectations of the Fox business news piece and a lot of weed money from sector players scouring the industry for absolutely anything with "Cannabis" in its name that hasn't already moved 20 times from its price three months ago.
Disclosure: I am long APP with no specific price target. I have bought in months ago and I am deeply in the green. It is every investor for themselves on this one but I think there will be a substantial near-term increase which is why APP is still one of my largest positions.
Disclosure: I am/we are long FUAPF.
Additional disclosure: I hold positions in securities as disclosed in this article and may make purchases or sales of these securities at any time. I have not received any compensation for this article and all opinions reflected herein are my own. The information provided herein is strictly for informational purposes only and should not be construed as a recommendation to buy or sell, or as a solicitation of an offer to buy or sell any securities. There is no guarantee that any estimate, forecast or forward-looking statement presented herein will materialize and actual results may vary. Investors are encouraged to do their own research and due diligence before making any investment decision with respect to any securities discussed herein, including, but not limited to, the suitability of any transaction to their risk tolerance and investment objectives.
 http://www.evranic.com/