Pot Stocks Have Cost Investors $40 Billion (on Paper) Over the Past 7 Months (MF).
These 17 marijuana stocks are collectively crushing investors' hopes and dreams. AKA: My ass you can't time the market, Subscribe for our 'Top 20 for 2020 Bounce Portfolio.'
What a difference even a few months can make when it comes to the cannabis industry.
IF YOU WERE DOWN 'ONLY' 50%, YOU WERE LUCKY!
IF YOU WAITED FOR THIS DAY, YOU WERE SMART!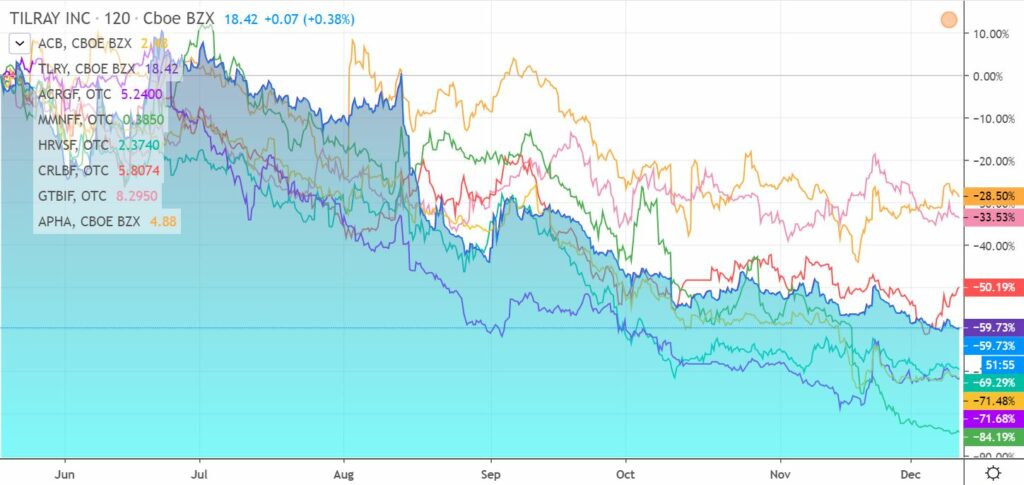 During the first quarter of 2019, marijuana stocks did what they've been doing for the better part of three-plus years — printed money for their shareholders. In the first quarter, 14 pot stocks moved higher by at least 70%, and the Horizons Marijuana Life Sciences ETF, the first exchange-traded fund focused on cannabis, gained more than 50%. Pardon the pun, but expectations remained high with Canada having legalized recreational weed in October, and numerous U.S. states pushing toward some form of medical or recreational weed legalization.
However, it's been almost straight downhill since the end of March. In fact, it's almost hard to believe that, at one point in April, more than one dozen marijuana stocks possessed at least a $1 billion market cap. The industry that looked to be ascending to the heavens has been pulled out of the ground by its roots.
Brand-name marijuana stocks have cost investors $40 billion
While I can certainly spout of percentage declines that are likely to open a few eyes, investors have mostly become desensitized to the wild price fluctuations that come with owning pot stocks. A much better way of conveying the pummeling that pot stocks have taken recently is by comparing the market caps of 17 companies that had reached billion-dollar status earlier this year to their market caps as of today. What I'll be using for reference are the market caps of these companies on April 25, and those as of Nov. 19, which represents a nearly seven-month time frame.
Here's how these billion-dollar pot stocks have fared over this period:
SHOPPING LIST?
* On 2020 Bounce List.
On a combined basis, this works out to just over $40 billion in paper losses since April 25. Mind you, this market cap data comes a day after most marijuana stocks hit their lowest levels in two or more years. Had I chosen Nov. 18, paper losses would have been even higher.
SUBSCRIBE TO RECEIVE: Marijuana Stock Review – Bounce Portfolio – Top 20 Stocks for 2020.