A Marketing Machine, a recently released survey conducted by Brightfield of more than 3,500 CBD users, cbdMD ranked the highest in terms of overall consumer satisfaction as well as the highest in unaided consumer awareness of any of the top 20 CBD brands.
---
This is a heads up. We are time and price stamping our interest in cbdMD (YCBD) at $2.80. The shares have drifted to a valuation of under $100 million and we think this is an excellent entry-level down from near $7.00 in May. Adding to both our CBD Pure Play Watch List and the Marijuana Stock Review – Bounce Portfolio – Top 20 Stocks for 2020 Watch List.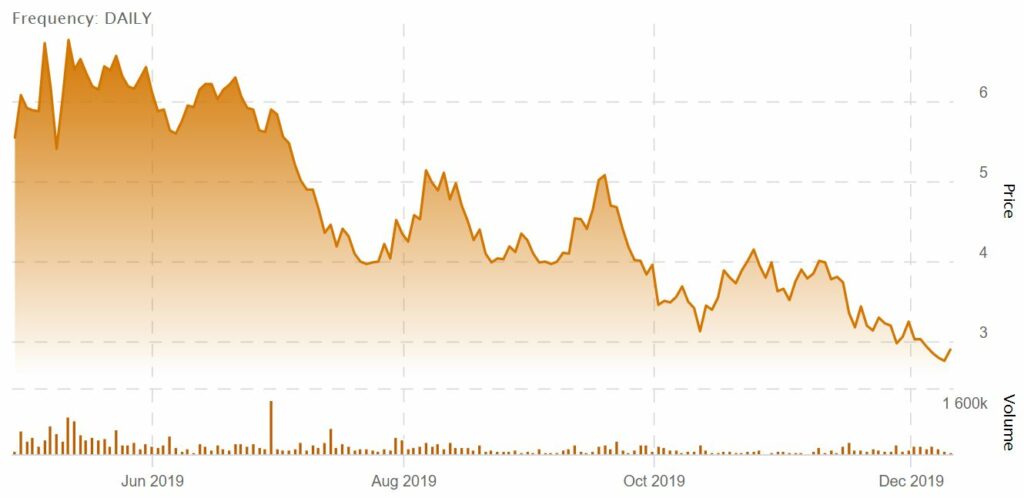 ---
RECENT HEADLINES:
Scott Coffman on Q3 2019 Results – Earnings Call Transcript.
Though little known in Wall Street circles and with a short trading history, Benchmark nonetheless issued a $9 price target (9/10) before the most recent MJ sector downdraft.
Closed $5 Million Preferred Stock Offering Convertible at $6.00 on 10/10 via ThinkEquity.
Cantor Rated Neutral with a $3.40 price target on 11/10 the same day they targeted a $4.20 price target (when it was at $1.70) on CV Sciences (CVSI) which is not yet on our Bounce List.
cbdMD Announces Preliminary Q4 2019 (9/30) Record Net Sales of $9.5 million for the last quarter of fiscal 2019, which was an increase of over 67% from the March 2019 quarter 11/11.
Nice Progression (Year ends 9/30)

HO HO Happy Holiday Records 12,300 Orders in Five Days!
Disclaimer:
Recap of articles and press releases: This press release contains certain forward-looking statements that are based upon current expectations and involve certain risks and uncertainties within the meaning of the U.S. Private Securities Litigation Reform Act of 1995. Such forward-looking statements can be identified by the use of words such as "should," "may," "intends," "anticipates," "believes," "estimates," "projects," "forecasts," "expects," "plans," and "proposes." These forward-looking statements are not guarantees of future performance and are subject to risks, uncertainties, and other factors, including, but not limited our ability to, statements regarding our ability to continue to increase our revenues, build brand awareness, expand our retail presence and provide customer service to meet our goals, some of which are beyond our control and difficult to predict and could cause actual results to differ materially from those expressed or forecasted in the forward-looking statements. You are urged to carefully review and consider any cautionary statements and other disclosures, including the statements made under the heading "Risk Factors" in cbdMD, Inc.'s Annual Report on Form 10-K for the fiscal year ended September 30, 2018, as filed with the Securities and Exchange Commission (the "SEC") on December 12, 2018, our Quarterly Report on Form 10-Q for the period ended March 31, 2019, as filed with the SEC on May 15, 2019, our Quarterly Report on Form 10-Q for the period ended June 30, 2019 as filed with the SEC on August 14, 2019 and our other filings with the SEC. All forward-looking statements involve significant risks and uncertainties that could cause actual results to differ materially from those in the forward-looking statements, many of which are generally outside the control of cbdMD, Inc. and are difficult to predict. cbdMD, Inc. does not undertake any duty to update any forward-looking statements except as may be required by law. The information which appears on our websites and our social media platforms, including, but not limited to, Instagram and Facebook, is not part of this press release. Not a client though we would prefer them to be.