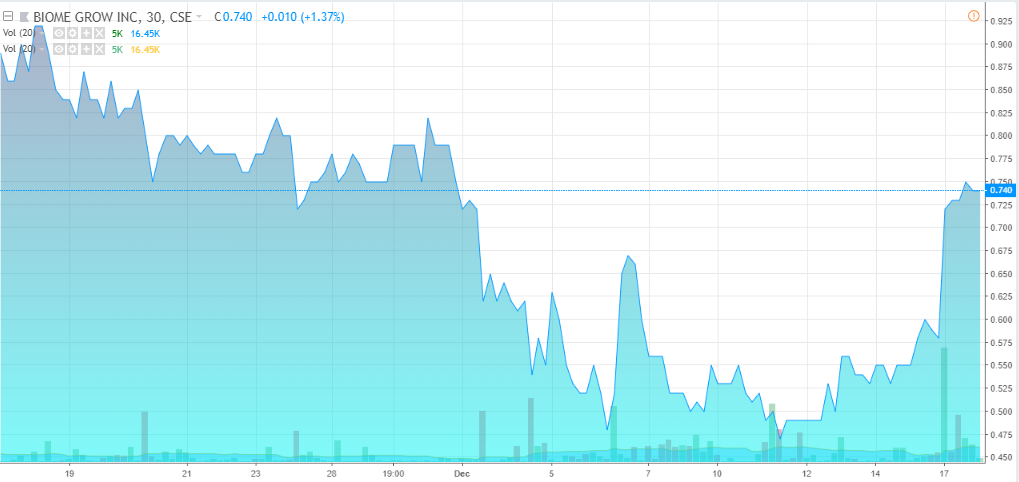 Gains 25% With Major Win Under Health Canada Act.
Upgraded License From Health Canada Completes Transition to Commercial Cannabis Enterprise.
$100 Million Newfoundland Labrador Agreement.
Five Milestones Ahead in 2019.
Milestones, milestones, milestones. With early-stage Canadian Cannabis companies which have large growth ambitions, share prices typically advance on the news of license awards, building completions, property acquisitions, commencement of sales and a variety of other news related items. These show that the start-ups are moving ahead in their stated gameplan.
With that said, Biome Grow ranks as the Top Company small cap company we follow, for potential milestones achievements for 2019. It should be a news-packed year ahead.
Our belief is that it is wise for investors to add to their holdings as each milestone is announced, as it tempers the risk of the rather obvious – which that a milestone may be delayed, or simply not achieved at all. This entails 'buying-up' as investors are doing today in Biome Grow, with the share price advancing 25% today in Canadian trading (with the Dow down 500points). This is smart investing (vs. buying down) in our opinion.
Biome announced a major milestone today which will allow its Highland Grow (Nova Scotia) subsidiary to sell cannabis products to end consumers through medical and recreational cannabis channels. The Company stated, finished product grown and packaged specifically for their customers in Nova Scotia is ready to be labeled and delivered.
This follows news from November that Biome signed one of top five largest deals of its kind in the Canadian history by quantity in Newfoundland & Labrador (details below).