Summary
Medmen has been in business as a retailer for a few years however has not achieved profitability.
After what could only be labelled a dizzying pace, the company has acquired multiple companies.  They are the world's biggest retailer of cannabis.
The company has been burning cash and has been diluting shares in their acquisitions and merges making an investment a concerning disposition.
Medmen (OTCQB:MMNFF) is the world's biggest cannabis retail dispensary company with what is now about 19 licensed cannabis facilities operating in 13 states with many licenses in the works for greater expansion. Lately, they have been acquiring other retailers at a very rapid pace. However, the company is not profitable and has a high burn rate. The question that we have is will the newly acquired retailers improve the bottom or is Medmen positioning themselves to further dilute their shares in order to stay afloat?
For now, the company's stock has been muted as we wait and see the results of how the acquisitions play out.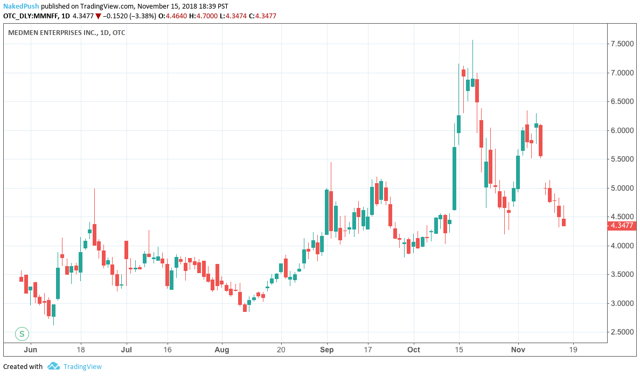 Deals, Deals, Deals, but, were they worth it?
At what can only be described as a dizzying pace, the company expanded rapidly over the past few months. Medmen bought several companies using both cash and stock. The total acquisition amount for the month was some $880 million. One of those acquisitions was PharmaCann, which was a purchase with stock to the tune of $682 million (the previous shareholders of PharmaCann now own 25% of the combined company with Medmen stock).
The company states they do not discuss certain particulars regarding their deals. Read: We don't really know all of the numbers. Despite that, there are a lot of numbers we do know, and they are interesting.
First, the combined companies now have 66 retail outlets operating and licensed in 13 states for production and cultivation. The company will also have some 800,000 square feet of planned cultivation and growing space.
Since we do not have too many details about the statistics of each company that was purchased, we have to "glean" some numbers to determine where the company now stands. Medmen now has "planned" cultivation space of 800k sq. feet. We do not know what their expected capacity will be from that, but, we do have a comparison which should give us a sense of what could happen.
Aurora Cannabis' Aurora Sky is 800,000 sq. feet and the expectation is that they can produce approximately 100,000 kg. of flower per year. That will give us a good measuring stick in determining what the combined companies may be worth. However, there is a small caveat to this. Aurora Sky is one massive facility. That should give Aurora increased productivity gains, whereas the Medmen projects are more than one facility (Please note: Medmen Mustang, a 45,000 sq. ft. facility in Reno opened in April of this year and is expected to produce some 10,000 of dried flower per year and another 45,000 is sq. ft. project has begun and is expected to be opened in early 2019).
There is one thing to point out, however: the 800k is planned space (the two facilities at 45k included in this number). I have dug around as much as I could, but there is no indication as to what the completion date on this will be. But, it is planned. That tells me the project has gotten no further than being put on paper and having been approved by local and state governments.
Read more here.