From helping with anxiety or lethargy, relaxation, pain, sleep, and so many other ailments, CBD-infused products have become a go-to for all things wellness and beauty.
Run Faster, Jump Higher.
---
Nass Valley Garden's Energize.

Get long-lasting energy for your day with Ginseng and CBD in a one-two punch. Energize was formulated to beat grogginess and fuel your day efficiently and effectively. Don't let Monday morning bring you down again, make Energize a part of your daily routine. Try it in two strengths: 500 mg and 1000 mg.
INGREDIENTS: MCT Oil (Medium Chain Triglycerides, Cannabidiol (CBD), Ginseng, Natural Flavors.
33.33 mg CBD per dropper (1-ounce bottle $104.99)
Stock trading symbol NVG Canada, NSVGF US.
---
Charlotte's Web Maximum Strength.

Offering their highest concentration of CBD per mL, this extract is ideal for those who want to step up their CBD supplementation routine. Featuring a full-spectrum hemp extract with a variety of phytocannabinoids, this is well-suited for those who are already familiar with CBD and are ready for the next step. Available online in Mint Chocolate.
INGREDIENTS: CBD oils include premium hemp extract, oil, and flavor. That's it.
60 mg CBD per dropper. (1-ounce bottle $164)
Stock trading symbol CWEB Canada, CWBHF US.
---
Lazarus Blood Orange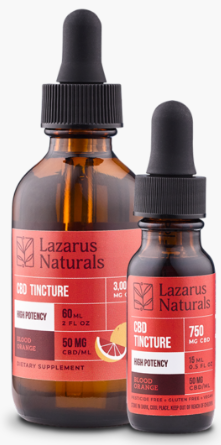 Infused with blood orange extract and high-quality CBD isolate, Blood Orange High Potency Tincture is an effective CBD oil with a high concentration of CBD and a pleasant citrus taste. To ensure a high-quality product, they carefully extract and formulate all of our CBD tinctures in house. Using hemp grown on their own Lazarus Farms, they render CBD-rich extract from the plant using an ethanol-based process. Then they refine the extract via fractional distillation and crystallization into CBD isolate.
INGREDIENTS: Fractionated Coconut Oil, CBD Isolate, Blood Orange Extract.
50 mg CBD per dropper. (2, 1/2 ounce bottles $80)
Privately Held
---
Endoca Strong

One of the stronger concentration CBD oils possessing 1500mg of CBD. The organic hemp oil formula is a potent source of all-natural properties including, minor cannabinoids, cofactors and terpenes. Hemp Oil assists in the stimulation of your body's endocannabinoid system, which helps promote balance and daily well-being. Endoca 15% Hemp Oil also includes the perfect 1:3 ratio of Omega 3s and 6s, as well as essential vitamins like Vitamin E.
INGREDIENTS: Hemp seed oil (50%), Omega 3 (0.75g), Omega 6 (2.5g), Vitamin E (5mg) phytocannabinoids cannabidiol 15% (CBD 1500mg), low concentrations of the natural forms of (CBC, CBG, CBN) and more, see the site.
Claims 5MG per 'single drop,' not sure if that means 'dropper.' ($387 for 3, 1/3 ounce bottles)
Privately held.
---
Sleep Better.
Nass Valley Garden's Rest+

How did Nass Valley make Rest+ even more effective? They combined 1,000 mg of their THC-free broad-spectrum CBD and Melatonin, ingenious! Rest+ now has all of the powerful terpenes and designer cannabinoids that the hardcore CBD aficionado needs. Get the best sleep you've ever had and enrich your endocannabinoid system with their rest enhanced formula today.
INGREDIENTS: MCT Oil (Medium Chain Triglycerides), Broad-Spectrum Cannabidiol (CBD), Melatonin, Natural Flavors. Buy here: RestPlus
33.33 mg CBD per dropper (1-ounce bottle $99.99)
---
Pura Watermelon Gummies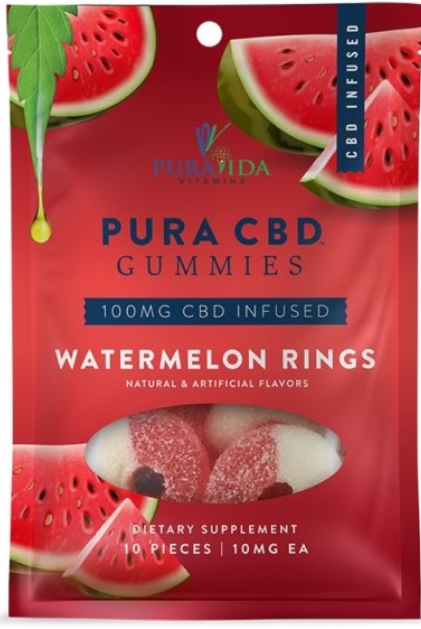 Chase the endless summer with of PuraCBD Watermelon Rings. Each ring delivers 10mg of whole-hemp derived Cannabidiol (CBD). 10 mouth-watering rings per bag. Never psychotropic, always delicious, PuraCBD Watermelon Rings for serenity-filled mind, body, balance. Voted most delicious by Buyers Choice Awards.
INGREDIENTS: Hemp Areal parts, corn syrup, other things to make delicious.
10mg CBD per piece (10 piece bag $9.95)
---
Joy Organics

Joy's CBD Oil Tinctures give you results quickly and easily. Each drop contains their THC-free phytocannabinoid-rich hemp oil. Simple and safe, take day or night for your ideal serving of CBD. If you're a citrus fan, try their Lemon or Orange flavors. their Tranquil Mint is perfect for those looking for a relaxing, refreshing experience from their tincture.
INGREDIENTS: Organic Extra-Virgin Olive Oil and Phytocannabinoid-Rich Hemp Extract.
33.33 mg per CBD per dropper. (1-ounce bottle $99.95)
Privately held.
---
Real Scientific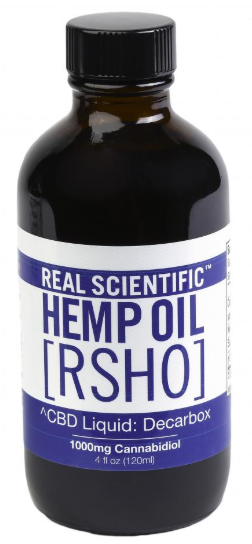 There isn't a greater or more convenient way to get your daily CBD than with a serving of all-natural Real Scientific Hemp Oil™ (RSHO™) Liquid – Blue Label CBD Oil. Their full-spectrum RSHO™ hemp tincture contains 1000mg of CBD oil concentrate combined with MCT oil. The MCT, or medium-chain triglyceride, oil is derived from wholesome organic coconut oil and composed of primarily caprylic and capric fatty acids.
The minimally processed blue label CBD tincture is of the finest quality, which you'll immediately notice the moment you apply the rich CBD liquid onto your tongue.
INGREDIENTS: Cannabidiol (as Hemp Stalk and Seed oil), Medium Chain Triglycerides
32 mg per CBD per dropper. (1 bottle $129)
Stock trading symbol MJNA in the US
---
NANO 3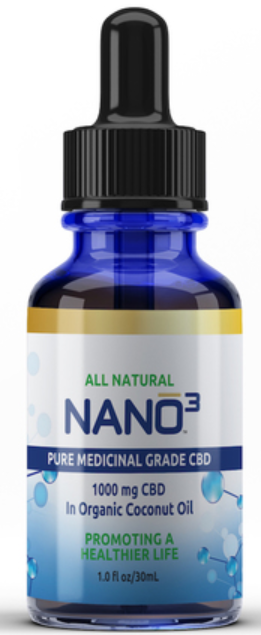 You deserve the best of the best – here's the new leader in wide-spectrum terpenoid targeting, marking the peak of consumer blends for both purity and efficacy. Each bottle of this specially formulated NANO3 hemp drops begins with clear Organic Coconut oil which is infused with Spectrumene™, a proprietary multi-spectrum blend of 11 terpenes that naturally enhances the effects and is combined with 1,100mg (actual) of nano infused, water-soluble pure Hemp isolate resulting in 33.333 mg per 1ml.
INGREDIENTS: Hemp and Organic Coconut Oil plus Spectrumene™
33 mg per CBD per dropper. (1-ounce bottle $160)
Privately held.
---
*All droppers are assumed 1mL in size and considered a single serving.
(Somewhat standard 30ml sized bottle = 1 oz. And standard dropper = 1ml, or 30 servings.)
---
If you decide to try CBD, talk with your doctor — if for no other reason than to make sure it won't affect other medications you are taking.
Revelers Media Group Inc™ shall not be held liable for the medical claims made by customer or corporate testimonials found on its website or website linked to. The statements made regarding these products have not been evaluated by the Food and Drug Administration. The efficacy of these products and the testimonials made have not been confirmed by FDA- approved research. These products are not intended to diagnose, treat, cure or prevent any disease. All information presented here is not meant as a substitute for or alternative to information from health care practitioners. Please consult your healthcare professional about potential interactions or other possible complications before using any product. The Federal Food, Drug, and Cosmetic Act requires this notice.
These statements have not been evaluated by the Food and Drug Administration. These products are not intended to diagnose, treat, cure or prevent any disease or ailment. Reveler's Media Group Inc™ assumes no responsibility for the improper use of these products. We recommend consulting with a qualified medical doctor or physician when preparing a treatment plan for any and all diseases or ailments. Reveler's Media Group Inc™ does not make any health claims about any products reviewed or recommended and recommends consulting with a qualified medical doctor or physician prior to consuming these products or preparing a treatment plan. It is especially important for those who are pregnant, nursing, chronically ill, elderly or under the age of 21 to discuss the use of these products with a physician prior to consuming. You must be 21 years or older to visit this website and/or purchase on Reveler's Media Group Inc™ websites or via affiliate links. The information on our website is intended to provide general information regarding our products and is not to be construed as medical advice or instruction.