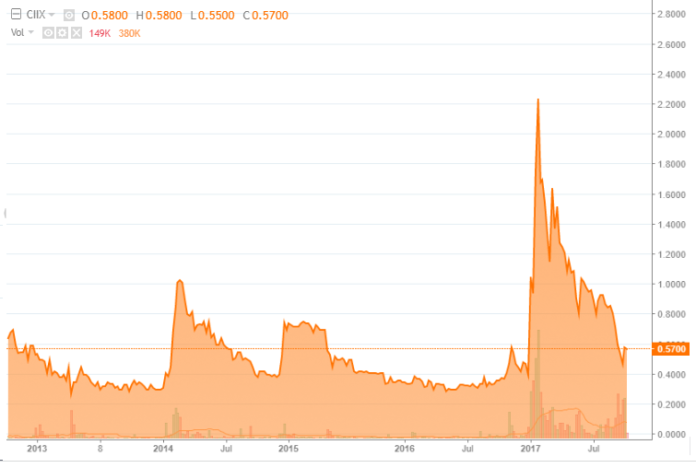 NEW YORK, NY / ACCESSWIRE / October 9, 2017 / SeeThruEquity, the leading independent equity research firm focused on smallcap and microcap public companies, today announced it has issued an update note on ChineseInvestors.com, Inc. (OTCQB: CIIX).
The report is available here: CIIX October 2017 Update Note.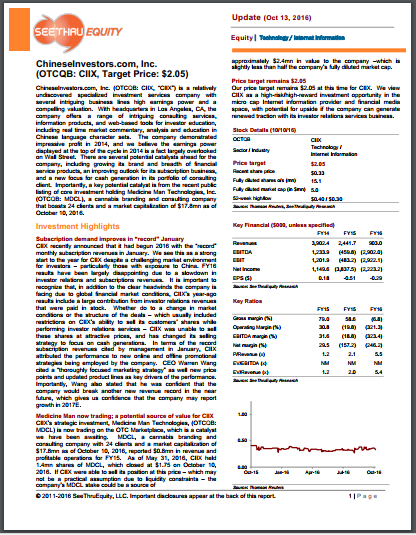 ChineseInvestors.com, Inc. (OTCQB: CIIX, "CIIX") is a relatively undiscovered specialized investment services company with several intriguing business lines high growth potential and a compelling valuation based on previous peak cycle earnings. With headquarters in Los Angeles, CA, and offices in Shanghai and New York, CIIX offers a range of intriguing consulting services, information products, and web-based tools for investor education, including real-time market commentary, analysis and education in Chinese language character sets. In the last year, CIIX has also begun to make several announcements that will position the company to operate in the global cannabis industry, a new and quickly growing market with large potential. CIIX will initially be focused on the Cannabidiol (CBD) market, one of the fastest growing segments of the legal cannabis market. The company has launched what management believes is the first CBD health products online store in the Chinese Language, and a Chinese language Yelp-style mobile application that will contain a location-enabled database of recreational and medical marijuana dispensaries, as well as a platform to review and discuss various cannabis products.
Highlights from the update are as follows:
CIIX announces FY 2017 results with 75.9% growth
On September 12, 2017, CIIX announced its full year fiscal 2017 (ended May 31, 2017) results. The company reported revenue growth of 75.9% over 2016, with revenues rising sharply in both its Investor Relations segment as well as its Subscriptions services segment. Management attributed the growth to prudent actions taken last year to elevate the quality of investor relations clients, as well as increased focus on new products and better execution in its subscription businesses. Key initiatives in CIIX's financial services news and subscription businesses include an upgrade to the company's Chinese language US stocks live video platform, as well as the improvements to the "real-money trading" platform for paid VIP subscribers. Additionally, on August 14, 2017, CIIX announced a new cryptocurrency education and trading subscription service for Chinese-speaking investors, which will provide news, video and analysis covering the emerging digital currency market.
CIIX advances growth plans for cannabidiol (CBD) health products
CIIX continues to establish businesses focused on the emerging market for cannabidiol (CBD). On September 18, 2017, the company announced that its wholly owned foreign subsidiary CBD Biotechnology Co. Ltd., completed the record filing process with the China Food & Drug Administration ('CFDA') for its first line of non-industrial hemp-infused skin care products. CIIX has high expectations for its new "CBD Magic Hemp" skin care line. Indeed data from Euromonitor estimated that retail sales of skincare products and make-up products in China reached RMB169.1 billion and RMB28.3 billion respectively in 2016, with Skincare representing the fastest growing sector of the cosmetics market. In the announcement, management stated that it has already engaged a large processing factory in Shanghai with more than 14 years of experience in cosmetics production, and that it expects to begin its commercial launch prior to the end of 2017.
Price target unchanged at $3.75
We are leaving the price target unchanged at this time for CIIX. The price target reflects the significant growth potential from the company's legal CBD initiatives in the US and the hemp CBD-infused skin care products in China, in addition to growth from its existing financial services businesses.
Please review important disclosures at www.seethruequity.com.
About ChineseInvestors.com, Inc.
ChineseInvestors.com, Inc., (CIIX), headquartered in Los Angeles, with offices in New York City and Shanghai China, is a Company that engages in providing a wide range of products, services, and information for the global Chinese speaking population. Founded in 1999, CIIX endeavors to be an innovative company providing (a) real-time market commentary, analysis, and educational related services in Chinese language character sets (traditional and simplified); (b) support services to various partners; (c) consultative services to smaller private companies considering becoming a public company; (d) advertising and public relation related support services; and (e) other services we may identify having the potential to create value or partnership opportunity with our existing services. http://www.Chinesefn.com.
The Company is now beginning to change its focus of solely being a premier Internet information provider by expanding into retail and online sales of CBD products via its new website: http://www.ChineseCBDoil.com.
Information on CIIX can be found at http://www.ChineseInvestors.com.
About SeeThruEquity
Since its founding in 2011, SeeThruEquity has been committed to its core mission: providing impactful, high quality research on underfollowed smallcap and microcap equities. SeeThruEquity has pioneered an innovative business model for equity research that is not paid for and is unbiased. SeeThruEquity is the host of acclaimed investor conferences that are the ultimate event for publicly traded companies with market capitalizations less than $1 billion.
SeeThruEquity is approved to contribute its research reports and estimates to Thomson One Analytics (First Call), the leading estimates platform on Wall Street, as well as Capital IQ and FactSet. SeeThruEquity maintains one of the industry's most extensive databases of opt-in institutional and high net worth investors. The firm is headquartered in Midtown Manhattan in New York City.
For more information visit www.seethruequity.com.
Contact:
SeeThruEquity
[email protected]
SOURCE: SeeThruEquity