New Travis x James™ and Cannavore™ Brands Bring "The Best Tasting Buds on Earth" to a New Market with More Than 44 Million Annual Visitors
Stem Holdings, Inc. (OTCQB: STMH CSE: STEM), a leading vertically-integrated cannabis and hemp company with state-of-the-art cultivation, processing, extraction, retail, and distribution operations, announces the launch and first shipments of two of its award-winning cultivars in Nevada dispensaries, under its new Travis x James cannabis and Cannavore edibles brands.
Committed to growing premium cannabis, Travis x James offers a line of cannabis flower utilizing cultivars developed by Stem's Oregon-based TJ's Garden™ brand ("TJ's"). TJ's genetics include "Durban Poison," one of the world's top-ranked and best-selling cannabis sativa cultivars. TJ's has won more than 30 awards at Cannabis Cup events, Dope Cup events, Northwest Cannabis Classic competitions, and others. Most notably, TJ's was recognized by High Times magazine for producing "The Best Tasting Buds on Earth."
Stem's edibles brand, Cannavore, offers award-winning artisan confections that are handmade in small batches without artificial ingredients. As part of its Nevada market launch, Stem will introduce Cannavore's Salted Caramels, Double Chocolate Chip Cookies, and Classic Chocolate Chip Cookies. Cannavore has been widely recognized for its innovative products, including being named one of "21 Brands to Watch," also by High Times magazine.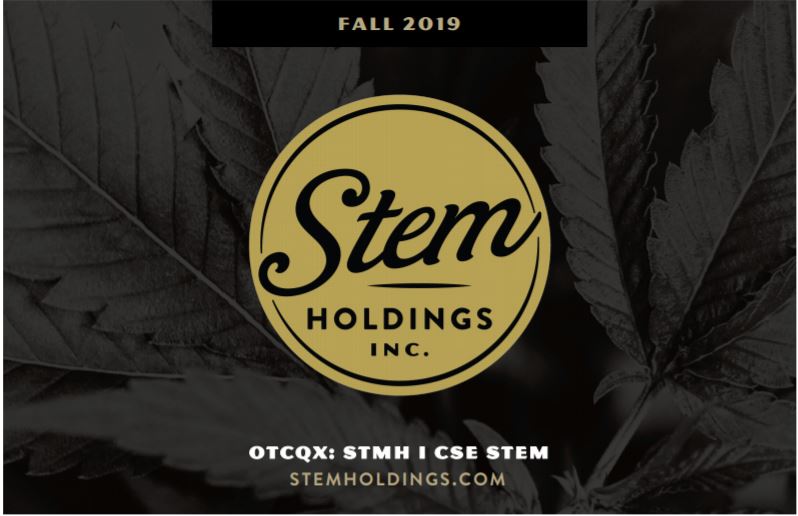 "Stem Holdings is proud to introduce Travis x James and Cannavore brands to Nevada, as we know residents and visitors alike will be drawn to our award-winning genetics and cultivars," said Adam Berk, Chief Executive Officer of Stem Holdings. "With more than 44 million visitors each year, the Las Vegas market provides an ideal opportunity to introduce our leading cannabis products to consumers both locally and across the globe, and our entrance into this market is indicative of our company's strategic approach to growth."
In January 2019, Stem announced the opening of its first Nevada cultivation facility, which is located only a few miles from Las Vegas Boulevard, commonly known as "The Strip." The facility includes cultivation, a commercial kitchen, and an extraction laboratory, enabling Stem to introduce other products to the Nevada market in the future.
More information on the Travis x James and Cannavore brands can be found at travisxjames.com and www.cannavore.com. To stay up to date on Stem's efforts in Nevada and other states, please visit www.stemholdings.com.
About Stem Holdings, Inc.
Stem Holdings, Inc. (OTCQB: STMH CSE: STEM) is a leading cannabis and hemp company in the U.S. with proprietary capabilities in sustainable cultivation, processing, extraction, and R&D, as well as retail and distribution operations aligned with state-by-state regulations. Stem's award-winning brands are the foundation of the Company's rapid expansion into current and new segments and markets, with exceptional and disruptive brands and products that benefit well-being. Stem's expertise and scale will drive growth domestically and internationally, building value for shareholders.
CAUTIONARY NOTE REGARDING FORWARD-LOOKING INFORMATION
This press release contains statements which constitute "forward-looking information" within the meaning of applicable securities laws, including statements regarding the plans, intentions, beliefs and current expectations of the management of Stem with respect to future business activities. Forward-looking information is often identified by the words "may," "would," "could," "should," "will," "intend," "plan," "anticipate," "believe," "estimate," "expect" or similar expressions and include information regarding: (i) expectations for other economic, business, and/or competitive factors; and (ii) the types of Cannavore and Travis x James products to be produced by Stem in Nevada.
Investors are cautioned that forward-looking information is not based on historical facts but instead reflect the management of Stem's expectations, estimates or projections concerning future results or events based on the opinions, assumptions and estimates of management considered reasonable at the date the statements are made. Although Stem believes that the expectations reflected in such forward-looking information are reasonable, such information involves risks and uncertainties, and undue reliance should not be placed on such information, as unknown or unpredictable factors could have material adverse effects on future results, performance or achievements of the Company. Among the key factors that could cause actual results to differ materially from those projected in the forward-looking information are the following: changes in general economic, business and political conditions, including changes in the financial markets; the ability of the Company to raise debt and equity capital in the amounts and at the costs that it expects; adverse changes in the public perception of cannabis; construction delays; decreases in the prevailing prices for cannabis and cannabis products in the markets that the Company operates in; adverse changes in applicable laws; adverse changes in the application or enforcement of current laws, including those related to taxation; the inability to locate and acquire suitable companies, properties and assets necessary to execute on the Company's business plans; political risk; and increasing costs of compliance with extensive government regulation. This forward-looking information may be affected by risks and uncertainties in the business of Stem and market conditions.
Should one or more of these risks or uncertainties materialize, or should assumptions underlying the forward-looking information prove incorrect, actual results may vary materially from those described herein as intended, planned, anticipated, believed, estimated or expected. Although Stem has attempted to identify important risks, uncertainties and factors which could cause actual results to differ materially, there may be others that cause results not to be as anticipated, estimated or intended. Stem does not intend, and does not assume any obligation, to update this forward-looking information except as otherwise required by applicable law.
No securities regulatory authority has in any way passed upon the merits of the proposed transactions described in this news release or has approved or disapproved of the contents of this news release.
Media:
Mauria Betts
Director of Branding and Public Relations
(971) 266-1908
[email protected]
Investor Relations:
John Mills
ICR, LLC
(646) 277-1254
[email protected]