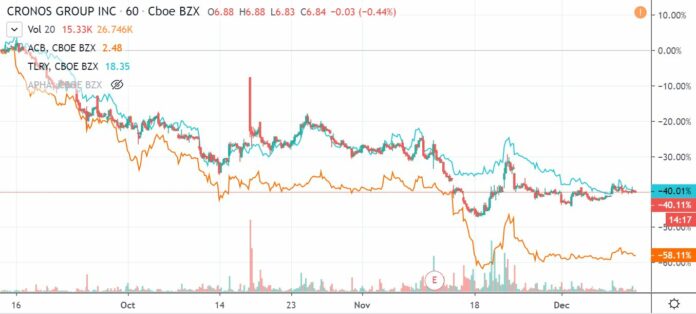 Cannabis stocks slammed as analysts say Canopy's new CEO faces big challenges (MarketWatch)
3 MONTH CHARTS CRON, ACB, TLRY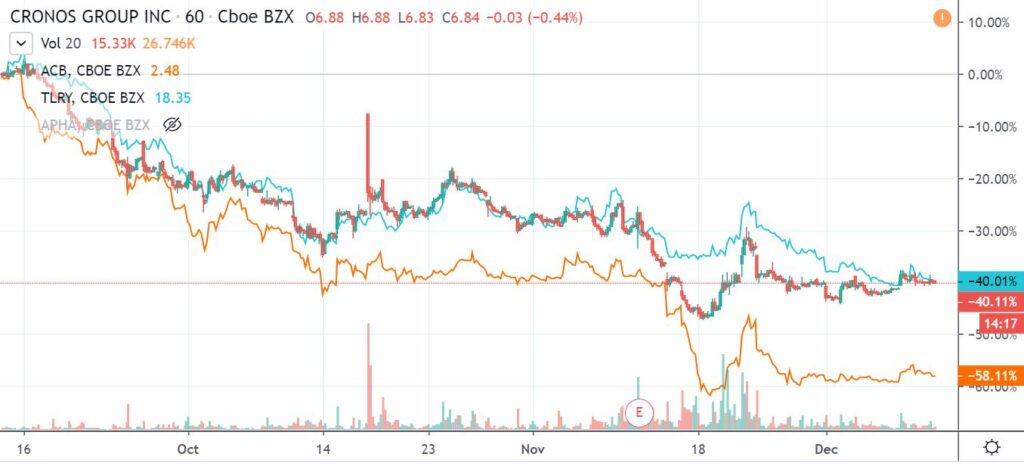 While he expects Klein (CRON) will move to address those excesses, "the mechanisms to address these issues are: 1) lower head count; 2) lower salaries; 3) lower discretionary pay; and/or 4) inventory destruction. None of these paths, while necessary, are good for morale."
Cannabis stocks fell Tuesday, as analysts weighing in on Canopy Growth's new chief executive took a cautious stance, highlighting the continuing challenges facing the company and the broader sector.
Canopy's U.S.-listed shares fell 3.5% in early trade, surrendering some of their prior session gain of more than 13%.
MKM analyst Bill Kirk said the news Monday that Constellation Brands' Chief Financial Officer will become the new Canopy CEO in January should bring needed fiscal discipline to the company, but is not a panacea for all ills. Constellation Brands STZ, -0.52% is Canopy's biggest shareholder after investing $4 billion in it last year and has already provided the company with a CFO and chief accounting officer.
"We have harped on some of Canopy's spending items that seem excessive: 1) equity comp greater than revenue; 2) G&A greater than revenue; and 3) inventory levels which likely don't match the demand curve," Kirk wrote in a note to clients.
While he expects Klein will move to address those excesses, "the mechanisms to address these issues are: 1) lower head count; 2) lower salaries; 3) lower discretionary pay; and/or 4) inventory destruction. None of these paths, while necessary, are good for morale."
See also: Canopy Growth will not be profitable by fiscal 2022, according to this analyst
Even if that plan is executed, estimates for Canopy remain too high, he wrote, noting revenue is currently expected to grow 100% in the next 12 months over the second quarter's run rate, while operating expenses are also expected to increase.
"This is an unachievable setup for any consumer products company. Mr. Klein brings a much needed fiscal responsibility lens, but the cures are difficult," said Kirk. MKM rates Canopy as neutral with a fair value estimate of C$23 ($17) that is below its current price.