As we near completion of our selections for the Marijuana Bounce Portfolio – Top 20 Marijuana Stocks for 2020 – to take advantage of the Marijuana Index falling from 350 to 130, we look at what some of the other perma-cautious analysts are thinking. Below, is from one of our favorites, Chris Parry at EquityGuru.
---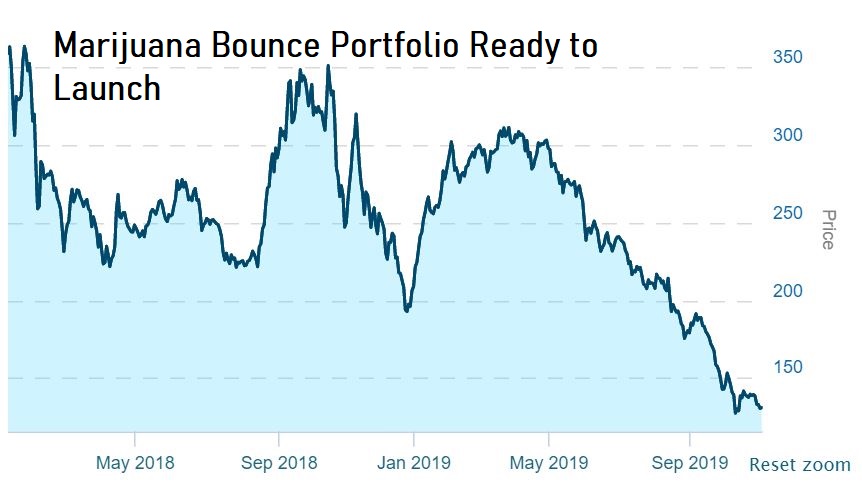 ---
EquityGuru Pens Sobering Look at Some of the 'Leading" Marijuana Plays Suggesting the Bear Market Isn't Over.
How's Your Large Cap Marijuana Hammer Hanging?
Yikes for Canopy Growth (CGP), Aurora (ACB), Wayland (MRRCF), Dionymed (DYMEF), Beleave (BLEVF), MYM Nutra (MYMFF), Cannabis One (CAAOF) and CannTrust (CTST).
---
Navigating the Cannapocalypse Through Value Picks: Don't Be Swayed by Optimists or Cynics.
If Canopy was built to grow market cap and not profits, as it appears to have been, Aurora chased that dream by following a similar path; buy things, pay above the odds if you need to, and the balance sheet will figure itself out later. We are now at 'later.'
The Reality:
If a cannabis company is making a profit, good
If a cannabis company isn't making a profit but is close to it, and has enough cash in hand to get there, good
If a cannabis company is far from making a profit but has enough finance to conceivably get there at some future growth point without financing, good
If a cannabis company has one-quarter of runway or less, they are in urgent trouble right now and will either make bad decisions, hard decisions, or even fraudulent decisions to carry on.
The reason the cannabis market is down is that more companies sit in the #4 category currently than don't.
Currently, Canopy Growth Corp (WEED.T), the big bellwether of the cannabis sector, has over a billion dollars in short selling bets against it. Aurora (ACB.T), which is also up there in market cap and name recognition, is close to the billion mark in shorts. There are $4.5 billion in short bets in weed right now which is a lot considering the widely used estimate on the size of the cannabis industry has been $5 billion in Canada.
For the uninitiated, short selling is when you borrow a stock, usually from your broker, and then sell it today, planning to buy it back later at a lower price and make a little profit on the difference. Essentially, you're betting the stock will drop.
Retail investors like to think that a small band of rogue corporate misfits do all this shorting, and that they can squeeze them by buying more of their favourite company's stock, and that 'this too shall pass', but the truth is the folks shorting cannabis stocks right now are the guys that usually offer those companies financing.
At times, they'll offer both financing AND short sell the borrower at the same time.
That is a bet not just on a continued downturn in the sector, but on a financial apocalypse. It's the sort of lending that organized crime usually engages in.