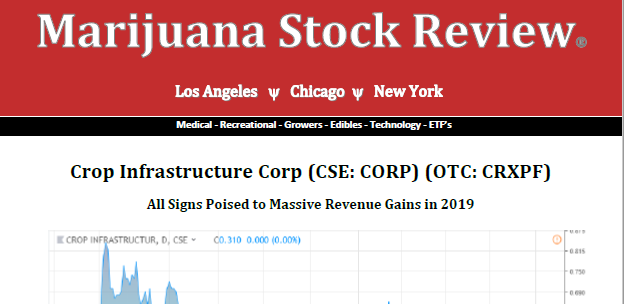 Like a Wind Tunnel at Their Back.
A lot of unexpected things can go wrong during the planting stage with Growers which can keep less venturesome investors on the sidelines, waiting for further news, that the crop promised to be harvested actually gets harvested, packaged and then sold.
There is nothing wrong with the 'wait and see' strategy for cautious investors.
After Crop Corp begins selling their recent harvests, as we believe they will soon announce, the more conservative can initiate positions. Of course, the share price may be double from where it is currently trading on the news like it did last fall, but it is still a viable strategy because even while there may be less reward, there will also be less risk.
Plus the next run that Crop Corp has, should be followed by a period of leveling off, before embarking on an even more powerful, sustained run – which could gain in strength throughout 2019.
So the waiting conservative investor could still participate in the major move coming ahead.