CBD Is Not Safe, Says Former FDA Chief Scott Gottlieb (MotleyFool).
You see, while hemp-based CBD may have been given a pretty clear sales pathway across the country with the Farm Bill becoming law, adding CBD, a cannabinoid that can be found in marijuana, a still federally illicit substance, to food, beverages, or dietary supplements is still a big no-no. That puts CBD regulation as an additive squarely on the plate of the FDA.
For its part, the FDA was expected to report on the progress of its discussions by the late summer or early fall, according to September tweets from acting Chief Information Officer Amy Abernethy. It's now November, and the FDA hasn't provided any updates on where its thinking is headed with regard to CBD being used as an additive.
Nevertheless, this hasn't stopped former FDA commissioner, Scott Gottlieb, who stepped down from his post earlier this year, from weighing in on CBD. Gottlieb, in series of tweets, made his opinion crystal clear about CBD: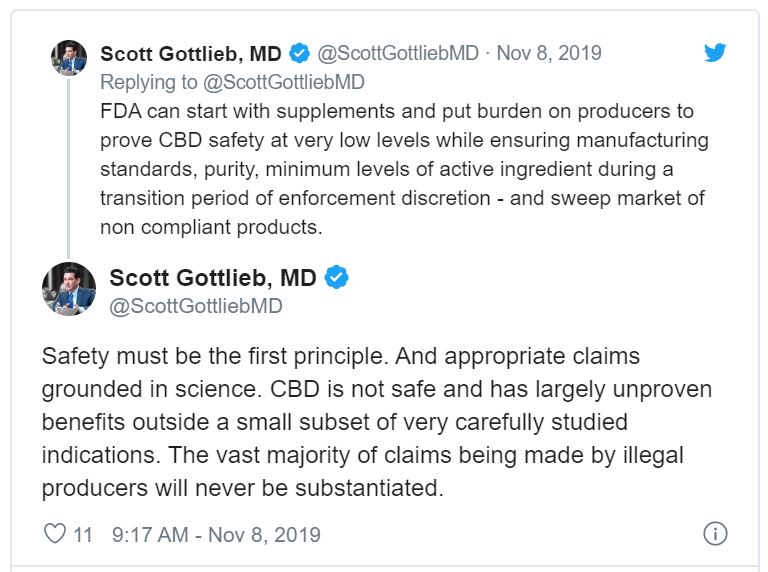 FDA can start with supplements and put burden on producers to prove CBD safety at very low levels while ensuring manufacturing standards, purity, minimum levels of active ingredient during a transition period of enforcement discretion – and sweep market of non compliant products.
Safety must be the first principle. And appropriate claims grounded in science. CBD is not safe and has largely unproven benefits outside a small subset of very carefully studied indications. The vast majority of claims being made by illegal producers will never be substantiated.
Stating that "CBD hype has outpaced science" and that "CBD is not safe," Gottlieb calls on the FDA to begin its regulation by targeting dietary supplements. He proposes that the FDA require supplement producers to prove the safety and/or efficacy of CBD at very low levels, while the FDA also oversees the production, quality, and purity levels of CBD products. All non-compliant producers, or those who fail to meet rigorous purity and quality standards, should be removed from the marketplace.
Furthermore, back in March, while still head of the FDA, Gottlieb opined at a Brookings Institution event that it typically take two to three years for the FDA to develop a regulatory framework for adding a new substance into the food supply. But because cannabis is illicit, and CBD far more complex than conventional additives, it could take the agency even longer to develop regulations and a safety profile for CBD.