Joint Venture Brings New CEO Gavin Collier and COO Jordan Erskine.
(NGC-CA, NSVGF-US, 3NVN-Berlin)
DGAP-News: Nass Valley Gateway Ltd. Vancouver, BC, Canada, September 16, 2019

Nass Valley Gateway Ltd. (the "Company" or "Nass Valley") announces a joint venture with Dynamic Blending Specialists, located in Vineyard, Utah, a growing contract manufacturer of cosmetics, personal care, skincare, oral care, and natural and organic products. Nass Valley Gateway Ltd announces the reassignment of John Affenita, as CEO effective September 10, 2019. The Board wishes to thank John Affenita for his time on the Board as CEO and will remain a consultant to NVG.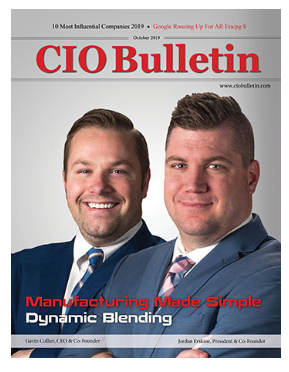 The Board has appointed a new CEO, Mr. Gavin Collier. Mr. Collier is a scientist, legal practitioner, and business executive, whose skill set and experience matches perfectly with Nass Valley Gateway's CBD products business. Mr. Collier played a key role in building Dynamic Blending Specialists, Inc., an award-winning business that recently won the American Business Awards "Bronze" for fastest-growing business. Mr. Collier has an A.S. in general studies as well as a B.S. Degree in Life Sciences Biology with an emphasis in Chemistry and Micro and Molecular Biology. Mr. Collier also obtained his Doctor of Jurisprudence and is a licensed attorney in the State of Utah.

The Company's new CEO, Mr. Gavin Collier, commented, "With the signing of the joint venture between Dynamic Blending Specialists and Nass Valley Gateway Ltd., we now have the synergies of Dynamic's proprietary formulas and products along with NVG's significant customer database, call centers, and experience in direct response TV advertising campaigns.

NVG is in the final stages of product branding and production and is still on target to begin CBD sales nationwide in Q3, 2019, we are excited to have competent leadership on board to realise our vision. The management board combines all skills and experience needed to manage the expected exponential growth of our business. We are ready to create a fully integrated CBD enterprise via organic sales growth, strategic acquisitions, and executing our business plan. We are on the way to becoming the leading CBD producer and supplier to retailers and wholesalers worldwide. Our products will always be at the forefront of innovation and will be considered the benchmark of standards by retailers worldwide."
Nass Valley also wishes to announce the immediate appointment of new COO Mr. Jordan Erskine. Mr. Erskine will also serve on the Board of Directors and serve on the Audit Committee. He is a highly motivated entrepreneur who has co-founded & sold several successful businesses. He has over 17 years in the personal care/skincare industry. Jordan currently serves as President for the award-winning contract manufacturer Dynamic Blending Specialists. Jordan also serves as Chief Operating Officer for NarcX. Jordan holds an MBA in International Business from Northeastern University.
Investor Relations Contact: Maximilian Fischer, email: [email protected] Tel: +49 172 8241464
The issuer is solely responsible for the content of this announcement.
16.09.2019 Dissemination of a Corporate News, transmitted by DGAP – a service of EQS Group AG. The issuer is solely responsible for the content of this announcement. The DGAP Distribution Services include Regulatory Announcements, Financial/Corporate News and Press Releases. Archive at www.dgap.de

Read more at https://stockhouse.com/companies/bullboard#Lv3gAicJIsPVF11m.99