If The Tinley Beverage Company is our favorite THC beverage maker, the Alkaline Water Company has to be our favorite client and CBD beverage (and more) maker. If there is a central belief, we have in the highly competitive CBD beverage market, it is that a company that has proven it can sell a non-CBD beverage, has an enormous leg up over its competitors in being successful in selling a CBD enhanced beverage. Simple fact of life.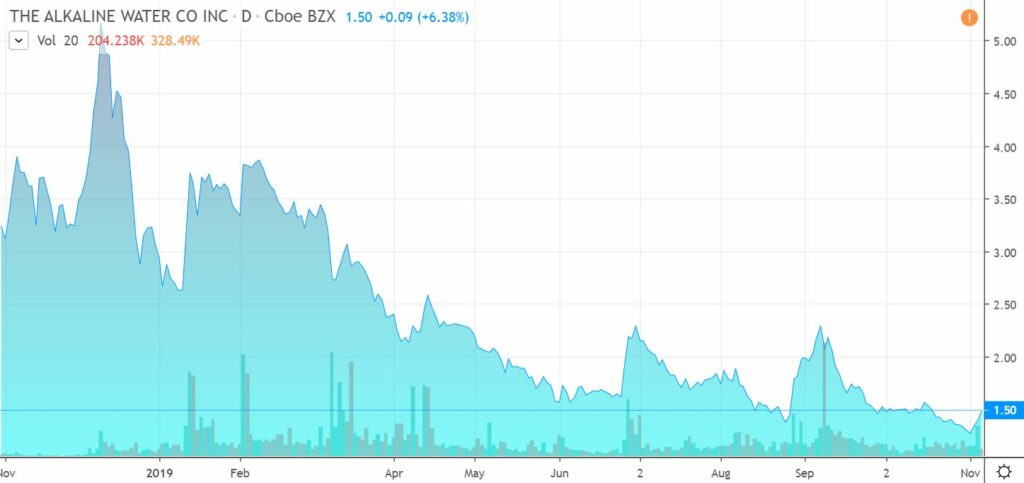 Slapping CBD on a label of iced tea, will probably not willy-nilly make it. In fact, the odds are probably 95% that it won't. Hate to be a killjoy, but beverages are cutthroat and Alkaline Water has shined from near zero in five years to over $60 million next year.
Alkaline Waters has succeeded where nine out of ten beverage start-ups fail. If they can prove success in selling water, which it has, they have proven they can sell, period. Second, companies that have an embedded fan base – are simply asking their current fans to 'try our flavored' or 'try our CBD enhanced' version. It makes the first try process enormously less complicated than getting a consumer to try something, when they don't even know what it tastes like.
We are long overdue (or perfectly due) for an updated report on the amazing progress the company has made in the past year, including now being associated with two of the wealthiest entertainers in the US: P Diddy (net worth $740 million) and Mark Wahlberg ($255 million). Not because they hired them, but because they bought their fast-growing water company Aquahydrate. Oh and Yucaipa now owns 18% of Alkaline Water. It's run by Ron Burkle who has a net worth of $1.5 billion.
The share price ran to a high near $5.00 in the height of the CBD craze and is now at its most favorable valuation since we began following it three years ago.
We'll get started on that report tonight!
MBP price: $1.47.
(Client, see reports for disclosure and disclaier details)