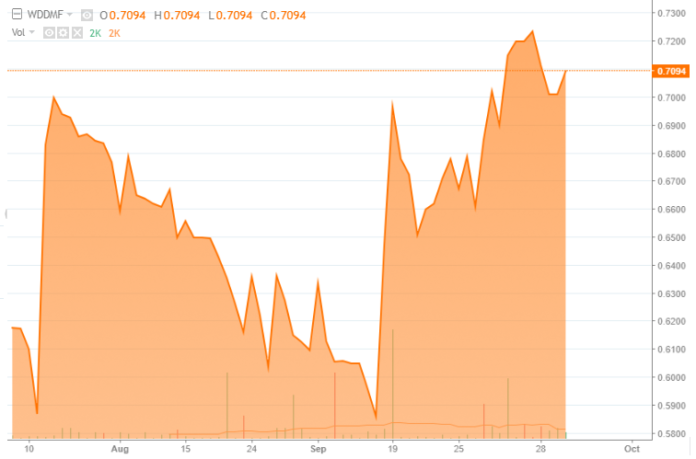 FIRST LICENSED PRODUCER TO ANNOUNCE MULTIPLE SUPPLY CONTRACTS FOR SENIORS
Toronto, Canada, September 26, 2017 – WeedMD Inc. (TSX-V:WMD) ("WeedMD" or the "Company"), a federally licensed producer and distributor of medical cannabis, is pleased to announce that it has signed agreements to supply medicinal cannabis products on an exclusive basis with three long-term care ("LTC") and retirement home providers. These include peopleCare Communities, Arbour Heights, and the Belmont Long Term Care Facility, which together total nine homes with more than 1,000 beds across Ontario.
"As the first Canadian licensed producer to sign multiple supply contracts for senior resident care, we are beginning to validate our long-standing strategy. We are leveraging our teams' four decades of experience in the LTC and seniors' industry to secure these initial exclusive supply agreements, accelerating our plan of becoming Canada's partner of choice for LTC and retirement home providers," said Bruce Dawson-Scully, CEO of WeedMD. "Being chosen as the exclusive cannabis provider to these communities highlights our ability to provide medicinal cannabis products in conjunction with our integrated priority program developed for the long-term care, assisted living, and seniors' markets. We see these contracts as just the beginning and will continue to focus on expanding the seniors' market by providing access to alternative health care solutions and building our business."
"We are excited to be working with WeedMD in offering alternative health care solutions for our valued residents as we look to provide safe, cutting edge, innovative and sustainable ways to enhance their quality of care. We are equally proud to be among the first cohort of Canadian LTC facilities to formally sponsor the use of medical cannabis," said Andrea Brissette, Vice President, Care and Services at peopleCare Communities. "WeedMD's high regard for excellent patient support aligns perfectly with peopleCare's core principles as we establish policies and education programs to properly roll out our medical cannabis program. We look forward to building on this partnership in the years to come."
With a demographic that is growing at four times the rate of the broader population, the Company views the long-term care, assisted living and seniors' market as one of the most attractive medical markets. Seniors carry a large pharmaceutical burden and a sizeable portion of the population is living in, or seeking, assisted living facilities. WeedMD forecasts that patients in this segment can generate upwards of three times the lifetime value (LTV) of a typical patient under the Access to Cannabis for Medical Purposes Regulations (ACMPR), generated by higher, more consistent consumption and a more operationally efficient patient acquisition and distribution model.
In addition to peopleCare Communities and its more than 750 beds, the Company also signed respective agreements with Arbour Heights and its sister home, the Belmont Long Term Care Facility, which together house more than 300 beds. These programs are expected to be rolled out before year-end, following the soon-to-be expected receipt of the Company's license to sell cannabis oil – as its production license was received on June 19, 2017. In what represents a significant milestone for the medical cannabis and long-term care industries, WeedMD will be the exclusive supplier of cannabis products for distribution to the residents of these communities.
The Company will continue to focus on securing additional supply contracts in the long-term care, assisted living and seniors' markets offering its proprietary integrated care program along with its cannabis products. Also, WeedMD is advancing a very compelling expansion plan to position itself strategically for the future adult-use market which it expects to unveil in the coming weeks
For more information, access our investor presentation on our website here.
About WeedMD Inc.
WeedMD Inc. is the publicly-traded parent company of WeedMD Rx Inc., a federally-licensed producer and distributor of medical cannabis pursuant to the Access to Cannabis for Medical Purposes Regulations ("ACMPR"). The Company operates a 26,000 sq. ft. indoor facility in Aylmer, ON, with four acres of property for future expansion. The Company has entered into strategic relationships with established cannabis brands, including leading, premium, female-focused Van der Pop. WeedMD is focused on providing consistent, quality medicine to the long-term care, assisted living and seniors' markets in Canada through its specialized, comprehensive platform, and is dedicated to educating healthcare practitioners and furthering the public understanding of medical cannabis as a viable alternative to prescription medication – relieving a variety of chronic medical conditions and illnesses.
About peopleCare Communities
peopleCare Communities is an industry leader in South Western Ontario.  Three generations have honoured a philosophy of care and a passion for service.  This continues today by embracing new and best practices in senior living with the commitment to make each peopleCare residence a place where seniors are treated with dignity and respect.  Headquartered in Kitchener, Ontario, peopleCare Communities owns and manages seven long term care homes.  The first retirement home will be opening in London, Ontario in October 2017.
For further information, please contact:
WeedMD Inc.
Keith Merker, Chief Financial Officer
Tel: 519-765-2440 Ext. 222
Email: [email protected]
To learn more, visit us at www.weedmd.com
For Media Inquiries:
Marianella delaBarrera
Margin Communications & Public Relations
Tel: 416-897-6644
Email: [email protected]
For more interesting curated articles like this, sign up for our free newsletter at the MarijuanaStockReview.com or click here to subscribe.