Share This Graphic
Full Width Large Graphic
800 Pixel Wide Version
Social Buttons
Save
Vaping: Health Risks, Prevalence and Socio-Economic Impact
– Guide Authored by Corin B. Arenas, published on November 12, 2019
E-cigarettes or vapes have become popular over the last decade. It comes in various shapes and sizes, with customizable features and palatable flavors. Considered a sleek tobacco alternative, it's no wonder they appeal to the young and old.
However, recent reports show a growing lung epidemic linked with vaping.[1] Moreover, leading e-cigarette company JUUL is under fire for the rising rate of underage vaping.
In this guide, we'll rundown the health risks of e-cigarettes, why it's prevalent, and its socio-economic impact on people.
How Vapes Work
E-cigarettes are pocket-sized, battery-powered contraptions that simulate smoking.[2] They work by heating a liquid solution to produce an aerosol which is inhaled into the lungs. It's activated by pressing a button or simply taking a puff.
The 'e-liquid or e-juice' can be customized to contain nicotine and different flavors. Other vapers use tetrahydrocannabinol (THC) and cannabinoid (CBD) oils. THC is a psychoactive compound that produces the 'high,' while CBD is known to help relieve various types of pain such as arthritis.[3, 4]
The U.S. Lung Epidemic
The Centers for Disease and Control and Prevention (CDC) has discouraged the public from vaping as they conduct investigations.
As of November 5, 2019, there have been 2,051 cases of vaping-related lung injuries, with 39 confirmed deaths in 24 states and the District of Columbia.[5]
In November 8, 2019, the CDC reported that lung fluids from 29 EVALI patients (e-cigarette, vaping associated lung injury) in 10 states found vitamin E acetate, an additive identified in some THC-infused vape products.
The Wall Street Journal (WSJ) reported a statement from Anne Schuchat, the CDC principal deputy director:[6]
"For the first time, we have detected a potential toxin of concern… These findings provide direct evidence of vitamin E acetate at the primary site of the injury within the lung."
However, Schuchat said more studies are needed to know if vitamin E oil caused the vaping injuries. Health officials note that the illness may have more than one cause.
WSJ states vitamin E oil is usually found in food and dietary supplements. It is sometimes added to e-cigarette products containing the marijuana oil THC, especially black market products to increase its weight. The additive is safe to eat, but is possibly dangerous when inhaled.
The patients reported the following symptoms: [7]
Cough, shortness of breath, or chest pain
Nausea, vomiting, abdominal pain, or diarrhea
Fever, chills, or weight loss
Below are notable statistics from the report:
The 39 deceased patients ranged from 17 to 75 years old
Out of 1,364 patients with information on age:
79% were below 35 years old
14% were below 18 years old
25% were between 25 to 34 years old
21% were 35 years old or older
Out of 867 patients with information on e-cigarette use:
86% reported using THC-containing vapes
34% reported exclusive use of THC-containing vapes
64% reported using nicotine-containing vapes
11% reported exclusive use of nicotine-containing vapes
The CDC continues to warn the public from using e-cigarette products that contain marijuana oil THC, specifically from informal sources like online dealers, family and friends. Health officials assure the public that they will provide on-going information about the issue.
The Health Risks of Using E-Cigarettes
Vaping is regarded as a smoking cessation aid. However, it's not entirely risk-free. There are hazards to vaping, which include the following health conditions:
Pneumonia – among vapers using THC
Nicotine addiction – harmful to developing fetuses and can impede adolescent brain development [8, 9]
Possible heart problems – some studies say it's associated with heart attack and stroke
Possible cancer and organ damage – It may have lead and other cancer-causing agents[10]
Possible seizures – reported between 2010 and 2019
Injuries – possible vape battery explosions
Rise in Cases of Pneumonia
In September 2019, the CDC released a report about the rising rate of acute lipoid pneumonia linked with vaping.[11] Health officials said there were over 200 possible cases across 25 states.
Between July and August 2019, five patients ages 18 – 35 years old were diagnosed from two hospitals in North Carolina. They all experienced the following symptoms:
Difficulty breathing with tachypnea (abnormally rapid breathing)
Hypoxemia – abnormally low oxygen levels in the blood
Vomiting
Nausea
Severe discomfort
Fever
All patients had a recent history of using e-cigarettes filled with cartridges of marijuana oils. Three of the patients also smoked nicotine-infused vapes, while two smoked marijuana or regular cigarettes. They all used the vaping concentrate THC, which were bought on the streets.
Vitamin E Oil Found in THC
As of November 8, 2019, CDC laboratory tests of lung fluids from 29 patients found vitamin E acetate (also known as vitamin E oil) in all the samples.
THC was found in 83% of the samples
Nicotine was identified in 62% of the samples
The results show the first possible evidence of a substance that could be the cause of the mysterious epidemic. The CDC's results are also in line with the Food and Drug Administration's (FDA) current findings.
In November 8, 2019, the FDA obtained more than 1,000 samples from 25 states, with around 850 samples associated with the lung injury patients.[12] Around 595 samples associated with the patients have been tested. According to the FDA, 419 of the samples contained THC. Results showed:
50% of the THC products – detected with vitamin E acetate
22% of the THC products – identified with another substance, medium chain triglycerides
In separate test, an estimated 300 samples directly associated with 54 patients with CDC case numbers were examined. Around 80% of the 54 patients had links to THC products. Results showed:
74% of the cases identified products with vitamin E acetate as a substance used to dilute the oil
28% of the products were diluted with aliphatic esters
6% of the products were diluted with polyethylene glycol
The FDA continuous to gather more information to understand how the substances are connected to the lung injuries. Health officials stressed that varied patterns of use, products and substances being investigated may indicate there are multiple causes for the illness.
Anti-fungal Chemicals in Black Market THC
In a related post by Karl Denninger in the Market-Ticker.org, he highlights how the patients used illegally distributed THC for vaping.[13]
Tobacco and marijuana vape liquids are extracted from their respective plants. These plants are also subject to possible fungal infections. Furthermore, Denninger claims that:
"There has been a specific fungicide [myclobutanil] that has been found in a set of THC vape cartridges that a news organization allegedly got from the victims of these incidents. That fungicide, when heated, decomposes into cyanide and hydrochloric acid."
Cyanide is known to cause lung injury, which also manifests as difficulty breathing and nausea.[14] Hydrochloric acid, on the other hand, is a corrosive substance that causes irritation in the skin and asphyxiation when inhaled.[15]
Fungal infection in THC is possible. Though health officials did not mention anything about fungus contamination, the CDC continues to discourage the use of vapes with THC.
Media outlets like Fox News have reported the dangers of purchasing black market vape products.[16] In September 2019, police seized almost $4 million worth of illegal THC.[17]
Packaging used to make fake marijuana vaping materials were also sold in third-party sites like Amazon. In September 2019, KRFO Radio reported that Amazon has pulled out the counterfeit packaging for unregulated vape products.[18]
High Nicotine Levels
Vapes contain significantly more nicotine than cigarettes, according Heart.org.[19] This might encourage addiction rather than minimize its use.
While there are vapes that allow you to reduce the level of nicotine to promote smoking cessation, not all vape products encourage it. If you vape, consider cutting back nicotine or avoiding it altogether.
For example, according to Southbeachsmoke.com, light strength e-liquid has 12 mg of nicotine, which is equivalent to more than 60 regular cigarettes.[20] A regular American cigarette has around 9 mg of nicotine, which burns away as a person inhales just about 1 mg of nicotine.
Depending on how often you vape, you might be inhaling more nicotine compared to tobacco smoke.
Not Proven to Help Stop Smoking
Moreover, compared to methods endorsed by the FDA, the National Academies Press (NAP) states there is insufficient evidence that vaping can help smokers quit.[21] To date, the FDA does not approve vaping for smoking cessation.[22]
There are also heartbreaking stories about people like 16 year old Ewan Fisher who needed life support & John Steffen who died after switching to e-cigarettes to quit smoking. Detroit's Henry Ford Hospital conducted a double-lung transplant on a EVALI patient.
"What I saw in his lungs was something I've never seen before—and I've been doing lung transplants for 20 years. There was an enormous amount of inflammation … the lung was so scarred that we had to literally deliver it out of the chest. This is an evil I haven't faced before."
– Dr. Hassan Nemeh
However, in the United Kingdom, vaping has been advocated by health experts after a long-term study of vaping's effects on ex-smokers.
According to the National Health Service (NHS), 181 participants were part of a 6-month study conducted by researchers from the University College London, the Roswell Park Cancer Institute and the CDC.[23]
The study concluded that former smokers who have changed to e-cigarettes or nicotine replacement therapy (NRT) have significantly lower levels of toxins compared to those who smoke cigarettes.
Then again, the research did not assess vaping's effectiveness as a smoking cessation tool.
Vaping has become a hard habit to quit.
Potential Heart Disease
Research about vaping's negative effects on the heart contradict each other. For instance, a 2019 study in the American Journal of Medicine, including a nationwide survey of almost 450,000 people, found no substantial link between vaping and heart disease.[24]
However, based on the same survey, research published by the American Heart Association stated that e-cigarettes were associated with higher risk of heart disease, heart attack, stroke and angina.[25]
There is currently not enough evidence that proves vaping causes heart disease. In 2018, NAP published a review which states there is insufficient or no available evidence that vaping is associated with changes in the following functions:[21]
Long-term changes in heart rate
Changes in blood pressure
Altered cardiac function
Respiratory disease
For pregnant women – fetal development
But since 2018, reports from the CDC has associated vaping with respiratory disease. More long-term research is needed to confirm if it has ill effects on the heart.
Possible Cancer and Organ Damage
According to Cancer.org, e-liquids contain cancer-causing ingredients at significantly lower levels than cigarettes.[26] Though it is considered 'less risky,' not having enough data does not prove it does less harm.
Most consumers don't really know the ingredients in their vapes. Healthline states there are around 8,000 e-liquids in the market today which may have lung corroding ingredients.[27]
Here are common harmful ingredients found in vapes:
Acetoin
Acetyl propionyl
Acrolein
Acrylamide
acrylonitrile
Benzaldehyde
Cinnamaldehyde
Citral
Crotonaldehyde
Ethylvanillin
Eucalyptol
O-vanillin
Pentanedione (2,3-pentanedione)
Propylene oxide
Pulegone
Possible Link to Seizures
In April 2019, the FDA released a statement about possible seizures following e-cigarette use.[32]
Health officials received reports of youths and young adults who experienced convulsions after vaping. They identified a total of 35 cases between 2010 to 2019.
While 35 cases may seem insubstantial, health officials believe it warrants further scientific investigation.
Unexpected Vape Explosions
In 2016, the U.S. Department of Transportation officially banned using e-cigarettes on commercial plane flights, as reported by Fortune.[33]
Reports of injuries caused by exploding vapes have circulated the news. For instance, NBC reported that a 17-year-old boy's jaw was shattered by a vape explosion.[34] They note that lithium ion batteries are not a safe source of power for vape pens.
Cigarettes vs. Vapes
How does vaping compare to cigarette use? Let's discuss their differences and similarities in marketing techniques, cost and economic trends.
Marketing Strategies
Early cigarette promotion has a lot in common with how vapes are being marketed today.
Before in-depth research proved smoking caused cancer, cigarette companies hired doctors, nurses and dentists to promote their ads. Prior to the 1950s, there wasn't enough proof that tobacco was harmful for health.
History cites a popular ad in 1946 saying, "More doctors smoke Camels than any other cigarette."[35] The first company to use doctors in their ads was American Tobacco, the manufacturer of Lucky Strike.
By the mid-1950s, experts published research showing the link between smoking and cancer. By 1964, the U.S. Surgeon General's report officially stated that smoking causes lung cancer, laryngeal cancer and chronic bronchitis.[36]
Today, e-cigarettes are being marketed as a smoking cessation tool and an alternative to cigarettes. While vaping is not endorsed explicitly by everyone in the medical community, there are doctors that say it is better than smoking.
In the U.K, the NHS states e-cigarettes are being endorsed by health experts as a smoking alternative.[23] This was after a study showed people who vape have lower levels of toxic chemicals compared to tobacco users.
History seems to repeat itself. Since there is no conclusive evidence that vaping causes cancer, the medical community is divided about whether it can really stop smoking.
Regardless of what doctors say, vaping groups use it to encourage smoking cessation among members. For instance, community site Vaping Daily developed a guide to help people quit.[37]
The following are some of the strategies companies used to promote e-cigarettes:
Vape and cellphone in one – Jupiter smokeable smartphone [38]
Paying influencers to promote on IG
Small and discreet design – easy to hide for teens
A wide range of flavored tobacco products
Customizable vaping units
Popular vaping resource Smoketastic lists the different types of e-cigarettes: [39]
Rechargeable cigalike e-cigs – similar to smoking cigarettes, provides less flavor and vapor volume
Vape pods – became popular after the success of the Juul Pod, larger than a cigalike but not as big as a vape pen
Vape pens – usually a three-piece device with a battery, e-juice tank and removable atomizer
Box or vape mods – suited for users who want greater vape volume
Squonk mods – also uses a box mod, richer volume and produces a fresh flavor
The Cost of Cigarettes vs. Vapes
Periodicity
Cigarette Cost per User
Equivalent Vape Cost
Price Difference
Pack
Los Angeles – $8
Illinois – $10
New York – $11.50
Starter vape pen – $15 – $35
or pod system – $15 – $50
-$42 to -$3.50
Month
Los Angeles – $184
Illinois – $230
New York – $264.50
First month – $50 – $120
Succeeding months: $30 – $60
$64 – $234.50
Year
Los Angeles – $2,208
Illinois – $2,760
New York – $3,174
$380 – $780
$1,426 – $2,794
Economic Cost of Cigarettes
A smoker burns an average of 15 cigarettes a day, states the Organisation for Economic Co-operation and Development (OECD).[40] This means smokers burn at least 450 cigarettes a month.
Maintaining a cigarette habit can get costly, especially if your state has higher taxes on tobacco.
For instance, a smoker can buy a pack of Marlboro cigarettes in Los Angeles for $8. Since cigarette prices vary per state, it's around $10 in Illinois and $11.50 in New York, according to World Population Review.[41]
If we sum up how many packs smokers buy in a month, that would be around 23 packs. If a person buys 23 packs for $8, that would cost $184 a month. In New York, it would cost around $264.50 a month, while it's $230 a month in Illinois.
In 2017, cigarette companies spent $9.36 billion on marketing cigarettes and smokeless tobacco in the U.S., based on data from the Federal Trade Commission (FTC).[42] The amount converts to $25 million a day, or over $1 million per hour.
Moreover, cigarette advertising and promotional expenses cost companies $8.64 billion in the same year. From this amount, around 71.7% or $6.19 billion was spent on price discounts paid to cigarette retailers to lower the cost of tobacco to buyers.
Economic Cost of Vapes
Vaping 360, the world's largest e-cigarette media portal, says that purchasing vape products in 2019 is affordable. A beginner vape pen can cost as low as $15 – $35, and a pod system is just $15 – $50.[43] But note that there are expensive devices which are more durable.
If a buyer wants something cheaper, there are disposable vapes priced around $3 – $7. However, disposable vapes tend to cost more over time compared to refillable ones.
An affordable vape pen complete with replacement coils and e-juice can cost as low as $50 on the first month. If a vaper wants a full-feature box mod with an MTL tank (a device that gives a more cigarette-like experience), e-juice and coils, the price can go up to $120 on the first month.
After your initial purchase, Vaping 360 states that users should expect to spend around $30 – $60 a month for coils and e-juice.
The CDC reports that from 2012 to 2016, e-cigarette sales in the U.S. generally boosted as prices went down.[44] Between these years, the national monthly average e-cigarette sales rate (across all product types) increased by 132%. That's from 667 vapes per 100,000 people in 2012, to 1,547 vapes per 100,000 people in 2016. These figures have most likely risen since.
With respect to marketing costs, the CDC states there is currently no available data on e-cigarette promotional expenditures.
The JUUL Controversy and Underage Vaping
After growing rapidly and dominating the ecigarettes market JUUL began to promote their product heavily as being for adults & as an alternative to smoking cigarettes.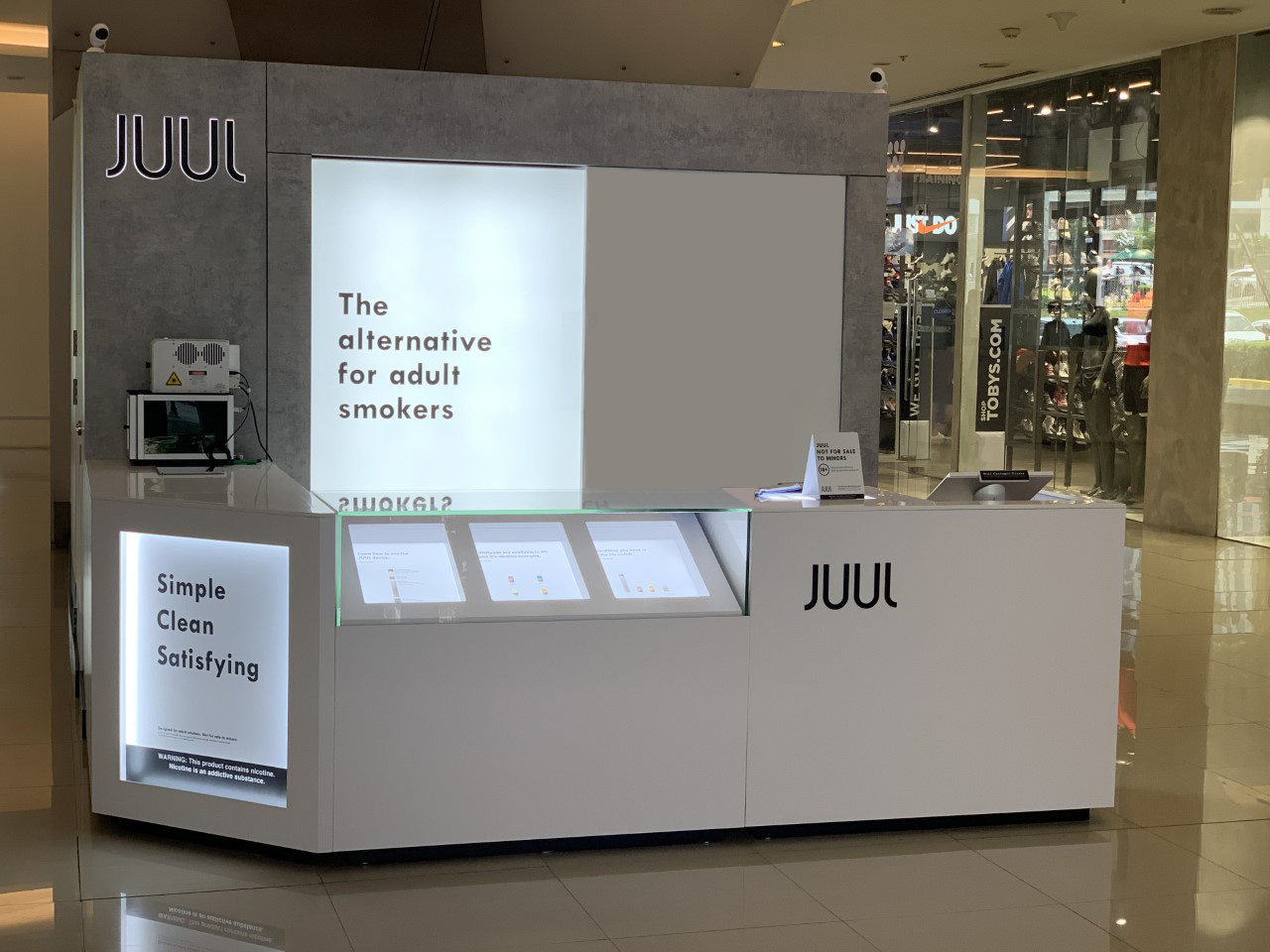 Much of their early marketing appealed to adolescence by offering fruity flavors, leveraging influencer marketing on social media channels like Instagram, selling cartridges in convenience stores & offering a slick design which acted as a fashion statement.
As of June 2018, JUUL Labs Inc. represents 75 percent of the dollar market share in the vaping industry.[45]
However, the growth in sales coincided with much public scrutiny. In May 2019, WSJ reports the FDA indicted JUUL for contributing to the rising rate of underage vaping.[46] They mentioned fruit and dessert flavored nicotine e-juices appealed to the youth.
Former FDA Commissioner Scott Gottlieb called for Juul Labs' products to be removed from the market.
Timeline of Teen Vaping News and Banned Vape Products
Month and Year
Event
October 2017
USA Today reports "Juuling" is widespread among teens and may lead to smoking
December 2017
NPR reports about teens using 'discreet' vapes
September 2018
India announces widespread ban on e-cigarette products
May 2019
The FDA claims JUUL contributed to the rising rate of teen vaping
September 2019
Major seller Walmart announced it will stop selling e-cigarettes
November 2019
The FDA is expected to ban flavored cigarettes, including mint
JUUL stopped selling their popular mint flavor after research showed it's most preferred by underage vapers
By September 2019, Walmart announced it will stop selling e-cigarettes due to pressure from regulators, according to CNN.[47] Walmart also supports raising the minimum age for tobacco purchase from 18 to 21 years old.
In a related story, Business Insider reported an in-depth timeline of the success and controversies faced by JUUL.[48] According to their interview with Stanford physician Robert Jackler, JUUL's product campaigns were largely youth-oriented.[49]
As early as 2017, media outlets like NPR (October 2017) and USA Today (December 2017) have published news about the rising 'Juuling' epidemic among teenagers.[50, 51] This sparked concern among school administrators and parents with the future effects of nicotine addiction.
In November 2019, Juul announced they intended to lay off 650 employees and cut spending by $1 billion after pulling popular flavors.
Anti-Tobacco Groups Against Vaping
Organizations like Tobacco Free California were driven to campaign against underage vaping.[52] They formed the FlavorsHookKids.org with the initiative to prevent children from getting addicted to smoking.[52] According to the site:
The tobacco industry is hooking the next generation of addicts, and flavors are a big way in. Four out of five kids who have used tobacco started with a flavored product.
Anti-tobacco organization Truth Initiative states that one JUUL pod contains 20 cigarettes worth of nicotine, which is around 200 puffs.[54]
Widespread Ban on Vape Products
In September 2018, NPR reported that India approved a sweeping ban of e-cigarette products.[55] The decision was made to protect the youth from becoming addicted to nicotine. Before the ordinance, JUUL was set to launch products in India by the end of 2019, according to Reuters.[56]
As of November 5, 2019, the FDA is expected to ban all flavored e-cigarettes, including mint which is most popular among students.[57]
Despite the drawback, a WSJ article states there are signs vaping may have saved lives by offering a safer alternative.[58] As e-cigarettes became widespread, smoking rates significantly decreased too.
Take smoking rates among the youth. WSJ reports 36.4% of high school students claimed to have smoked cigarettes in 1997. In contrast to 2017, only 7.6% of high school students have smoked cigarettes.
Chief JUUL stakeholder Altria invested $12.8 billion to buy a 35% stake in Juul on in December 2018. After regulator issues caused growth to slow, on October 31, 2019 Altria wrote down their stake by $4.5 billion, cutting the company valuation from $38 billion to $24 billion.[59] JUUL is scheduled to downsize its employees by removing 500 jobs by the end of 2019.[60]
Vaping Prevalence Among U.S. Users
Just how common is vaping in the country? An often cited study in the Annals of Internal Medicine estimates that 10.8 million adults in the U.S. were vaping in 2016.[60] Since it's publication, vaping's prevalence continued to grow.
The study, headed by Dr. Michael J. Blaha of John's Hopkins University, surveyed a sample population of 466,842 people in each state, with participants ages 18 and above.
Results show about 15 percent had never smoked cigarettes, 54.6% were smokers and 30.4% were former smokers.
| Vapers Who… | Percent |
| --- | --- |
| Never Smoked Cigarettes | 15% |
| Smoke | 54.6% |
| Are Former Smokers | 30.4% |
In terms of age, over half of 15,240 e-cigarette users were younger than 35 years of old. Vaping was most prevalent among people ages 18 to 24 years old, while prevalence seems to decrease with age.
| Age | Percent |
| --- | --- |
| older than 34 years old | 48.8% |
| younger than 35 years old | 51.2% |
| 18 – 24 years old | 9.2% |
Minorities like members of the LGBTQ community are also vulnerable to vaping. For instance, vaping was common among 7% of gays and lesbians compared with 4.6% of heterosexuals. Around 9% of transgender people and bisexuals were also e-cigarette users.
Tobacco companies have explicitly targeted the LGBTQ communities with focused marketing campaigns.
Additionally, vaping was likely among people with chronic health problems like breathing disorders, heart disease, cancer and asthma than people without those health issues.
In a New York Times interview with Dr. Blaha, he states that: [62]
[The] use of e-cigarettes among people who have never smoked — we're up to almost 2 million people — is something we have to watch very carefully.
The Alarming Increase in Teen Vaping
According to NPR, in 2016, only 1 out of 10 students reported vaping.[63] However, new findings from the Journal of American Medical Association (JAMA) show that the number has increased to 1 out of 4 students in 2019.[64]
The study examined data from the 2019 National Youth Tobacco Survey, including a total of 19,018 middle school and high school students.[65]
Researchers estimate more than 5 million teens vape in 2019, compared to more than 3.6 million in 2018.
The data below compares the percentage of vaping and cigarette smoking. While smoking is at 5.8% for high school students, 27.5% of them use vapes. Fewer middle school students vape at around 10.5%, with 2.3% reported to smoke.
| % of Student Vapers and Smokers | Reported use of e-cigarettes | Reported smoking cigarettes |
| --- | --- | --- |
| High School Students: | 27.5% | 5.8% |
| Middle School Students: | 10.5% | 2.3% |
When it comes to vaping frequency, up to 21% of high school students were reported to use it daily. Fewer middle school students used it every day, at 9%.
| % Vaping Frequency of Students | Fewer than 20 days a month | Daily | 20 or more days a month |
| --- | --- | --- | --- |
| High School Students: | 44% | 21% | 34% |
| Middle School Students: | 73% | 9% | 18% |
Among high school and middle school students, around 59 percent stated they preferred JUUL as their brand. 19% said they used other brands, 14% said they don't have a usual brand and 8% smoke cigarettes.
| Brand Preference, High School & Middle School Students | % |
| --- | --- |
| JUUL | 59% |
| Other e-cigarette brands | 19% |
| No usual e-cigarette brand | 14% |
| Smokes cigarettes | 8% |
The data also revealed that the students actually preferred mint flavored e-juice, which was not included in the previous flavor ban.
| Mint E-Cigarette Flavor Preference | % |
| --- | --- |
| High School Students | 45% |
| Middle School Students | 29% |
However, as of November 7, 2019, CNBC reports that JUUL has stopped selling its popular mint flavor, following the release of this study and pressure from government authorities.[66]
The mint flavor accounts for around 70 percent of JUUL's sales. If the removed flavors are reviewed and approved by the FDA, JUUL could eventually reintroduce them in the market.
We published a guide on the alarming impact of JUUL and vaping on teens.
Our Survey: How Safe is Vaping Compared to Smoking?
We asked the following question to a total of 1,517 online respondents:
How safe is vaping versus smoking cigarettes?
Survey Methodology
Our survey was conducted from November 5 – 7, 2019 using Google Surveys. The answers were displayed in a randomly reversed order. Respondents are a representation of English language web users from the United States across the Google Surveys Publisher Network.

Survey Results
Generally, around 25% of our survey takers believe vaping is significantly less safe, while only 5.2% say it is significantly safer. But almost 40% responded they're not sure, which means many of the respondents are unaware of vaping's real risks.
| Category | Percentage |
| --- | --- |
| Significantly less safe | 25% |
| Slightly less safe | 3.9% |
| About the same | 20.8% |
| Slightly more safe | 5.5% |
| Significantly more safe | 5.2% |
| I am not sure | 39.5% |
When we analyzed the respondents' age range, we found that older survey takers tend to think vaping is significantly less safe than smoking compared to younger respondents.
The colors represent different age groups from youngest to oldest. There is a distinct pattern from top to bottom where the younger group tends to think e-cigarettes are safer than smoking cigarettes, while older groups skew in the opposite direction.
The age range that most participated in our survey were people ages 55 – 64 years old, with 320 respondents. The youngest demographic, which is 18 – 24 years old, had 144 respondents.
When we compared responses between the youngest and oldest survey takers (235 respondents were 65 and above), the results showed 21.3% of the youngest group believe vaping is significantly less safe. That's 10% less compared to 31.2% of the oldest group who believe it's significantly less safe.
7.6% of the youngest respondents also believe vaping is significantly more safe, while only 3% of the oldest respondents believe vaping is significantly more safe than smoking. This seems consistent with Dr. Blaha's 2016 study, which found that vaping was most prevalent among people ages 18 – 24 years old, with usage decreasing with age.
The results of our survey are recorded in the table below.
| Cohort | 18 to 24 Years Old | 65 and Up |
| --- | --- | --- |
| Significantly less safe | 21.3% | 31.2% |
| Slightly less safe | 2.4% | 2.2% |
| About the same | 22.4% | 18% |
| Slightly more safe | 7.4% | 4.7% |
| Significantly more safe | 7.6% | 3% |
| I am not sure | 38.9% | 41% |
We believe generational differences play a crucial role in our results. Younger people are more likely to try new things, are perhaps targeted by more e-cigarette marketing, and know other people who vape.
On the other hand, older people are generally less flexible about trying new things, are not as prone to e-cigarette ads, and probably read more health news. If they do use vapes, some of them probably do so as a smoking cessation tool.
Between men and women, based on our survey, women also tend to think vaping is significantly less safe than smoking. Over all, we gathered 842 male respondent and 675 female respondents. See the graph below.
A high percentage of men, 63.1%, think e-cigarettes are significantly more safe, while 36.9% of women say it's significantly more safe. On the other hand, 41.5% of men said vaping is significantly less safe, while 58.5% of women said it's significantly less safe. See the table below.
| Gender | Men | Women |
| --- | --- | --- |
| Significantly less safe | 41.5% | 58.5% |
| Slightly less safe | 36.4% | 63.6% |
| About the same | 47.1% | 52.9% |
| Slightly more safe | 7.4% | 47.5% |
| Significantly more safe | 63.1% | 36.9% |
| I am not sure | 51.4% | 48.6% |
This result seems to relate to a previous study about gender differences on e-cigarette use.[67] We speculate that more positive e-cigarette perception of men contributes to their likelihood to try vaping.
The study, published in Addictive Behaviors in 2016, found that men were reported to have greater addiction-related expectancy to e-cigarettes than women. For vapers, men were more likely to initiate vape use to quit smoking, whereas women tended to start vaping when it's recommended by family and friends.
The Bottom Line
Vaping has exceedingly become prevalent in the last decade.
But with the recent vaping epidemic, the CDC warns the public to avoid using e-cigarettes. They also encouraged people to stop buying black market vape products.
Moreover, vaping's prevalence prompted schools, parents and ragulators to minimize underage vaping. This pressured leading e-cigarette company JUUL to cut back its distribution.
Vaping is not as safe as it seems. With these recent revelations, the government is starting to impose better health regulations on e-cigarettes.
About The Author
Working as a health writer since 2016, Corin is interested in longevity research and how to improve the quality of human life. She holds a Master's degree in Creative Writing from the University of the Philippines, one of the top academic institutions in the world, and a Bachelor's in Communication Arts from Miriam College. Her other feature articles can be read on Inquirer.net and Manileno.com.
References